Work Naked: Eight Essential Principles for Peak Performance in the Virtual Workplace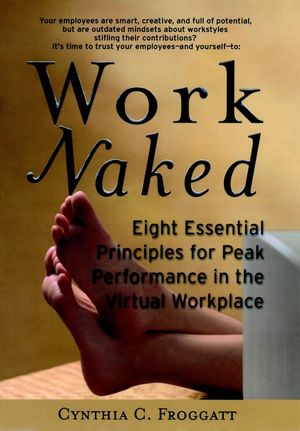 Work Naked: Eight Essential Principles for Peak Performance in the Virtual Workplace
ISBN: 978-0-787-95390-4
May 2001, Jossey-Bass
320 pages
Product not available for purchase
Description
Alternative workstyles can be a way to attract, retain, and motivate talented employees

"Enlightening, enjoyable, and extremely practical . . . offers real clarity about what is wrong with the way most companies work, plus exact directions on how to fix each and every office foolishness. Do what Froggatt says and watch your employees productivity rise."--Scott Shuster, BusinessWeek

Corporate and individual resistance to new ways of working are often imbedded within a company's culture--and can stifle change and hinder productivity. Organized around eight simple yet critical principles of the new workplace, Work Naked challenges long-held beliefs about the appropriate time, place, look, and feel of productivity in the knowledge era, showing how a wealth of hidden potential can be released by giving employees the freedom to work how, when, and where they want. Cindy Froggatt suggests workplace options that can help balance work and personal life, and helps managers address the needs of the many knowledge workers who require a greater degree of autonomy to perform, create, and innovate. She presents numerous examples of companies of different sizes and types that have instituted telework or alternative programs--and clearly explains the benefits and pitfalls of implementing them.

Cindy Froggatt (New York, NY) is Principal of Froggatt Consulting, whose clients include Compaq, Mercedes-Benz, Capital One, and Nova Corporation.
Preface xi
Acknowledgements xvii
Introduction: The Origin of "Work Naked" 1
Why Work Naked? The Eight work Naked Principles 7
Principle #1 Initiative 21
Shedding the layers of complacency, fear of change, and resistance to new ways of working
Principle #2 Trust 47
Shedding the layers of management control, outdated performance measures, and mistrust
Principle #3 Joy 73
Shedding the layers of overwork, high stress, and sleep deprivation
Principle #4 Individuality 101
Shedding the layers of conformity, one-size-fits-all routines, and fixed work hours
Principle #5 Equality 129
Shedding the layers of hierarchy, status symbols, and dress codes
Principle #6 Dialogue 153
Shedding the layers of one-way communication, misunderstandings, and idea-hoarding
Principle #7 Connectivity 183
Shedding the layers of geographic boundaries, reliance on co-location, and misuse of technology
Principle #8 Workplace Options 215
Shedding the layers of unproductive work environments, dreary home offices, and long commutes between them
Summary and Resources 247
Notes 253
Index 265
Companies Profiled in the Book 289
The Author 293
"the appealing title and Froggatt's connections to major business media will yield a strong start" (Publishers Weekly, May 28, 2001)

Consultant Froggatt explores employer and employee attitudes about working from home as the traditional office diminishes in importance. (Publishers Weekly, June 2001)

"her thought-provoking examination of this timely topic is presented in a comprehendible style" (Library Journal, May 15, 2001 )

"...essential reading for anyone seriously concerned with or committed to creating new work arrangements that really try to meet the needs of 21st century professionals..." (Professional Manager, January 2002)