Workbook to accompany Pas à Pas French: Listening, Speaking, Reading, Writing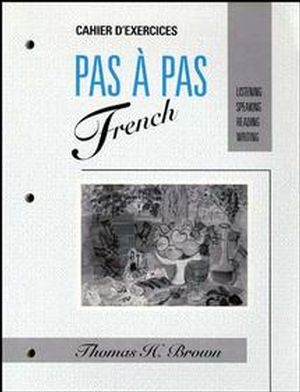 Workbook to accompany Pas à Pas French: Listening, Speaking, Reading, Writing
ISBN: 978-0-471-61774-7 January 1991 320 Pages
Description
This first-year French language text develops all the basic skills: listening, speaking, reading and writing. The chapters are organized into small, easily managed steps (pas), taking into account that the four basic language skills are not acquired in the same manner. Includes exercises.
Table of contents
Rencontres.
Descriptions.
Où Se Trouve...?.
Le Temps, Les Saisons et l'Heure.
Les Cours.
Les Repas.
Un Voyage par le Train.
Les Voyages et le Transport.
Les Loisirs et les Sports.
Scènes de la Vie Quotidienne.
Ma Famille.
Un Grand Magasin--Les Vêtements--Le Bureau de Poste.
Les Magasins du Quartier.
La France en Voiture.
L'Héritage Francophone.
La Santé.
Potpourri: Recyclage et Lectures.
Photo Credits.
Index.