Workflow Handbook 1997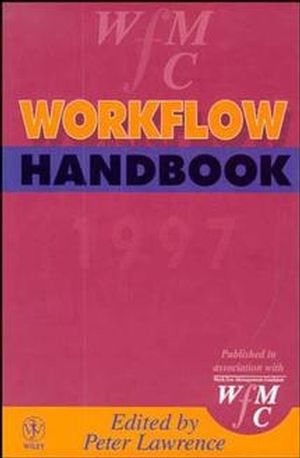 Workflow Handbook 1997
ISBN: 978-0-471-96947-1
Feb 1997
532 pages
Description
Workflow Management is a diverse and rich technology and is now being applied over an ever increasing number of industries. The competitive advantages of applying workflow technology are beginning to emerge as organizations focus on leveraging market opportunities from their business processes. Workflow Handbook Edited by Peter Lawrence The Workflow Handbook has been designed as a one-stop source for organizations seeking or already committed to implementing workflow systems as part of their IT strategy. Part I introduces key concepts and sets out the business case for workflow technology. How workflow systems have been put into operation and with what success is documented in a series of case studies across a broad spectrum of industries. Technical standards are provided in Part II and the last section provides a comprehensive listing of workflow resources including a directory of vendors. The pace of development in workflow technology is swift. The industry's standards-setting body, the Workflow Management Coalition, have provided the most up-to-date, authoritative point of reference for those implementing workflow in 1997. Visit our Website! http://www.wiley.com/compbooks/ Visit the Workflow Management Coalition http://www.aiai.ed.ac.uk/wfmc
THE WORLD OF WORKFLOW.

Introducing Workflow.

The Business Impact of Workflow.

Applications of Workflow.

Implementing Workflow.

The Future of Workflow.

WORKFLOW STANDARDS.

The Workflow Reference Model.

WAPI Specification the Workflow Client Application Programming Interface.

WAPI Naming Conventions.

The WfMC Glossary.

THE DIRECTORY.

WfMC Structure and Membership Details.

Workflow Management Coalition Member Directory.

Appendices.

Further Reading and Sources of Information.

Indexes.