Working Across Boundaries: Making Collaboration Work in Government and Nonprofit Organizations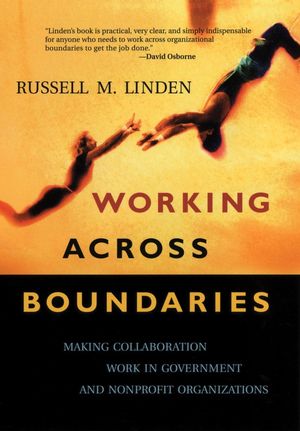 Working Across Boundaries: Making Collaboration Work in Government and Nonprofit Organizations
ISBN: 978-0-787-96799-4
Feb 2003, Jossey-Bass
336 pages
Description
Working Across Boundaries is a practical guide for nonprofit and government professionals who want to learn the techniques and strategies of successful collaboration. Written by Russell M. Linden, one of the most widely recognized experts in organizational change, this no nonsense book shows how to make collaboration work in the real world. It offers practitioners a framework for developing collaborative relationships and shows them how to adopt strategies that have proven to be successful with a wide range of organizations. Filled with in-depth case studies—including a particularly challenging case in which police officers and social workers overcome the inherent differences in their cultures to help abused children—the book clearly shows how organizations have dealt with the hard issues of collaboration. Working Across Boundaries includes
Information on how to select potential partners
Guidelines for determining what kinds of projects lend themselves to collaboration and which do not
Suggestions on how to avoid common pitfalls of collaboration
Strategies proven to work consistently
The phases most collaborative projects go through
The nature of collaborative leadership
Tables, Figures, and Exhibits.

Preface.

Acknowledgments.

The Author.

Part I: Working Across Boundaries.

1. Why Collaborate? And Why Now?

2. One Example of CollaborationThat Makes a Difference.

3. The Challenges of Successful Collaboration.

Part II: A Framework for Collaborationin the Real World.

4. A Framework for Collaboration.

5. Getting the Basics Right.

6. Forming Open, Trusting Relationships Amongthe Principals.

7. Developing High Stakes.

8. Creating a Constituency for Collaboration.

9. Building Collaborative Leadership.

Part III: Key Collaboration Issues and Tasks.

10. Phases in the Collaboration Journey.

11. More Keys to Successful Collaboration.

12. Collaboration Within a Single Organization.

13. Toward a Collaborative Culture.

Resources.

A. Four Methods That Promote Collaboration.

B. Some Questions and Answers ConcerningCollaboration.

C. Collaborative Assessment Tool.

D. The Research Base for This Book.

Bibliography.

Index.