Working Papers Chapters 1-18 to accompany Accounting Principles, 11th Edition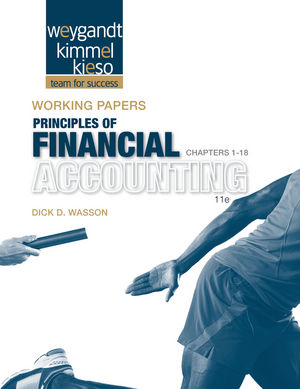 Working Papers Chapters 1-18 to accompany Accounting Principles, 11th Edition
ISBN: 978-1-118-34222-0
Jan 2013
904 pages
Product not available for purchase
Description
Accounting Principles 11th Edition, by Weygandt, Kimmel, Kieso provides students with a clear introduction to financial accounting that is full of real world and relevant examples to students lives. The Team for Success authors understand where students struggle in this course and have developed a learning system that illustrates the accounting cycle and key transactions, while giving them the tools to apply their learning through sample exercises throughout the chapter. By expanding coverage of IFRS, this edition keeps students at the forefront of global issues that impact their future careers in business and accounting.

Students get accounting when using Weygandt Accounting Principles with WileyPLUS because we make learning accounting easy and accessible for today's different types of learners. Written in a concise, clear, and conversation way, Weygandt Accounting Principles provides just the right amount of information students need to come to class prepared, while powerful visuals and Interactive Tutorials make complex accounting concepts possible to absorb quickly.

Starting with the building blocks debits and credit of the accounting cycle through a sole proprietorship, Weygandt Accounting Principles creates a solid foundation for later success in the course and subsequent business and accounting courses. This accounting principles text is known for the most relevant and easy to understand examples, while teaching students the accounting cycle through the lens of one consistent story of Pioneer Advertising Agency.Students using WileyPLUS do real accounting, get real results. WileyPLUS is a student-centered learning and assessment online environment.

Students come to class prepared because the program is a designed to meet the needs of today's accounting classroom with an innovative question design that facilitates effective learning of accounting concepts, skills, and procedures.

More students get accounting when using Weygandt, Accounting Principles with WileyPLUS, because they can Read It, See It, Do It – Get It.
A revision designed to engage today's students with the most current examples and mobile friendly design
Brand new opening stories engage students and include companies students know and whose products and services they use, like Groupon, Clif Bar, REI, and Sketchers
New Financialy Analysis and Reporting Problem based on Apple Inc.
New analysis problem presents managerial accounting situations that are based on the operations of a real company called Current Designs (kayak-making company), which is introduced in Managerial Accounting chapter opener.
New sustainability coverage throughout the book called People, Planet, Profit and reinforced with a People Planet Profit end of chapter question
New research cases based on business world events give students the opportunities to critical apply their knowledge to real world business scenarios.
Updated Fraud, Internal Control, and Cash chapter includes use of more recent technology, such as point-of-sale terminals instead of cash registers.
New Problem Set B for additional practice
More students get accounting when using Weygandt Accounting Principleswith WileyPLUS, because they can Read It, See It, Do It – Get It.