Working Together: 55 Team Games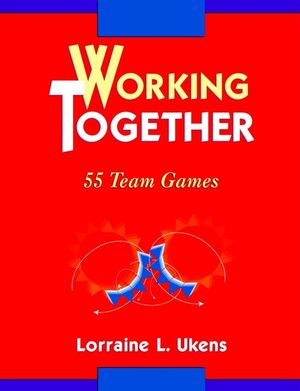 Working Together: 55 Team Games
ISBN: 978-0-787-90354-1
Nov 1996, Pfeiffer
208 pages
Description
Strengthen team bonds with friAndly competition
Take your team to a higher level of performance with a healthy dose of competition. These stimulating activities provide lessons in determination, teamwork, and planning-all critical elements in achieving high performance.
Each game includes everything you need to conduct the activity, including instructions, materials required, time required, and reproducible worksheets or material templates. Each is categorized into one of these topics: change, communication, conflict resolution, data analysis, decision making, leadership, perception, problem solving, strategic planning, and time pressure.
These simple games will help you:
Encourage members to cooperate and use all members' abilities
Motivate individuals to maximize their contribution
Demonstrate the benefits of cooperative competition
Prepare your team to meet future challenges
Emphasize teamwork as a means to a solution over winning
Use these games to enhance cooperation, resourcefulness, decision making, efficiency, and initiative in your team today!
Start your training on the right track and keep it there!
Introduction.

1. Boxing Match.

2. Breaking Away.

3. Bridges.

4. Cable Guide.

5. Comic Cut-Ups.

6. Commercial Appeal.

7. Common Bonds.

8. Crypto-Toon.

9. Degrees of Difference.

10. End of the Line.

11. Funny Fingers.

12. Gizmos.

13. Good Fortune.

14. Headlines.

15. Hi-Lo Trivia.

16. Hunter's Game.

17. In the Cards.

18. Key to the City.

19. Knot Now.

20. Line-Up.

21. Locomotion.

22. Losing Your Marbles.

23. May the Fourth Be With You.

24. Minor 49er.

25. Number Express.

26. Objectivity.

27. Pinned.

28. Pix.

29. Playing For Keeps.

30. Poetic License.

31. Puzzling.

32. Reflections.

33. Rocket Race.

34. Roundabout.

35. Sales Pitch.

36. Scavenger Search.

37. Ship Ahoy.

38. Sign Language.

39. Skyscrapers.

40. Soccer Fan.

41. Sporting Chance.

42. Square Off.

43. State of the Union.

44. Story Time.

45. Structural Changes.

46. Strung Out.

47. Toss-Up.

48. Treasure Map.

49. Twisters.

50. Unbelievable!

51. Weak Link.

52. Weather or Not.

53. What's My Line?

Wordsmithing.

Zoo Clue.