Working in Children's Homes: Challenges and Complexities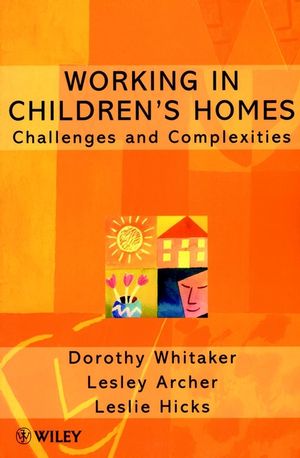 Working in Children's Homes: Challenges and Complexities
ISBN: 978-0-470-86069-4
Nov 2000
262 pages
Description
Working in Children s Homes is one of an important series of books on residential care based on research sponsored by the Department of Health. This book draws on extensive research conducted over a three-year period. The authors address the challenges and complexities facing those who work with and in children s homes. On the basis of interviews and discussions with heads of homes and staff groups, the authors explore the tasks which face staff groups, the rationale for their procedures, their sources of stresses and rewards, and the everyday ups and downs characteristic of residential care. Key tasks are discussed in depth, such as working with individual children, the mix of young people, managers and others in their own organisation, and the wider networks surrounding the home and the child. Characteristics of good practice are named, and factors which facilitate good practice and good outcomes are identified. Valuable recommendations are made for
* implementing and modifying procedures to improve working practices


* staff selection and training


* support required by staff groups


* procedures and communication channels in the larger organisation and surrounding networks
Working in Children s Homes provides a comprehensive commentary on the nature of care and working practices related to children s homes.It is essential reading for all those concerned with the care of children and young people in residential settings.
Focusing on Staff Groups.

The Homes, and the Circumstances of the Young People.

The Range of Tasks in Day-to-Day Work.

Rewards and Stresses, Ups and Downs.

Working with Individual Young People.

Working with the Mix of Young People.

Working with and Being Managed by the Larger Organisation.

Working with People and Organisations in Wider Networks.

Maintaining Viability as a Staff Team, in the Face of Change.

Working Purposefully.

Building a Picture of Good Practice.

Characteristics of Good Practice.

Factors which Support or Hinder Good Practice.

Factors which Influence Outcomes for Individual Young People.

The Quality of Homes as Care Settings.

General Comments on the Challenges and Complexities which Staff Groups Face in Children's Homes.

References and Further Reading.

Index.
"....This is a book which should particularly be read by managers outside residential settings, by field social workers, senior administrators...", , , Children & Society