Working with Feminist Criticism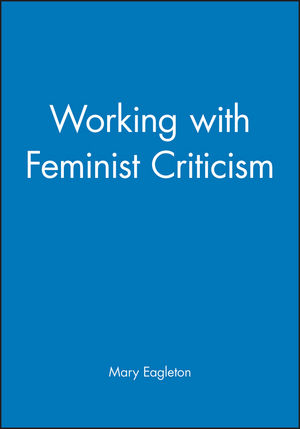 Working with Feminist Criticism
ISBN: 978-0-631-19442-2 November 2000 Wiley-Blackwell 252 Pages
Download Product Flyer
Download Product Flyer
Download Product Flyer is to download PDF in new tab. This is a dummy description. Download Product Flyer is to download PDF in new tab. This is a dummy description. Download Product Flyer is to download PDF in new tab. This is a dummy description. Download Product Flyer is to download PDF in new tab. This is a dummy description.
Description
Using the concepts and practices of feminist literary criticism, this constantly challenging workbook not only makes the connection between women's writing and women's lives but breaks new ground in enabling students to apply critical concepts and to feel more at ease with the texts common to feminist literary theory.
Table of contents
Acknowledgments vi
Introduction  1
Speech and Silence 16
Defining a Feminist Text 32
Creating a Matrilineage 37
The Woman Author: Lost and Found 49
The Death of a Woman Author? 65
Gender and Genre 77
Feminism and Genre Fiction 91
Feminist Publishing 105
Feminist Reading 119
Feminist Criticisms 135
Patriarchal Binary Thought 146
Gender Play 158
Feminine Writing and Reading 172
Finding the Subject 189
The Politics of Location 208
Conclusion 219
Works Cited 221
Index 234
Reviews
"
Working with Feminist Criticism
is both a guide to understanding and using feminist criticism and also a valuable source book for simple classroom exercises and for wider reading. This is not a daunting tome, but a fantastic source of ideas for the teacher of more advanced English language. It is also a worthwhile addition to the bookshelves of anyone with an interest in criticism and a passion for reading."
Vatime Newsletter.
"Working with Feminist Criticism is an invaluable resource for students coming to feminist literary criticism for the first time. However, it contains lots of useful and illuminating ideas that could be taken up by more experienced students." Caroline Guerin University of Adelaide.
Features


This workbook has been designed to be used in an open, non-linear way suggesting to the reader varied approaches to the material and different ways of making links between different sections.


Differences in level between sections, within sections and throughout the end-of-section reading lists, as well as the introduction, ensure that the workbook caters for a significant range of abilities.


Each chapter gives a clear statement of the concerns to be dealt with so that the reader knows exactly what is entailed.


Feedback is given in such a way as to ensure that the discussion is not closed: end-of-chapter reviews or checklists remind the reader of the key points while still leaving open differences of interpretation. On other occasions, arguments are set in opposition, offering the reader distinct positions without closing down the discussion to one "correct" answer.


The author provides bibliographical support on various forms: the material is supplemented with specific reading guidance at the end of each section; a bibliography at the end of the book gives full bibliographic information; and, in addition, there is guidance in the introduction concerning surveys of feminist criticism, where to start with critical readings, routes through the use of reference books.


The workbook also includes an expanded glossary.