Working with Statistics: An Introduction to Quantitative Methods for Social Scientists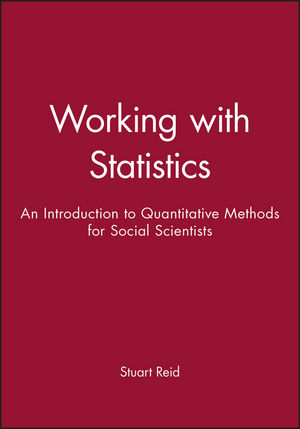 Working with Statistics: An Introduction to Quantitative Methods for Social Scientists
ISBN: 978-0-745-60048-2
Jan 1991, Polity
208 pages
Description
The very word `statistics' is enough to induce panic or cynicism in most people's hearts. The necessity of studying statistics is often regarded by students as a test of endurance rather than an educational opportunity. Working With Statistics is aimed to show such an audience that studying statistics can be both involving and even pleasurable.

By minimising specialist terminology and by utilising an authentic set of research data, the book provides a readable introduction into the uses of quantitative methods in social research. It also provides an argument for the value of such methods and aims to provide students with a working knowledge of computing, relating this directly to the demands of statistical analysis.

The book offers a lucid and comprehensive guide to statistics methods, and is suitable as an overall text for courses in the subject.
Acknowledgements.
Preface.
1. An Argument for Statistics.
2. Some Methodological Considerations.
3. The Vocabulary of Social Research.
4. Ordering the Data:.
Frequency Distribution and Visual Representation.
5. Summarising the Data:.
Measures of Central Tendency and Dispersion.
6. Taking a Sample: Inductive Statistics.
7. Working with Two Variables.
8. Working with Three Variables.
9. Concluding Remarks.
Bibliography.
1. Sociological approach: puts statistics into context - no other textbook does this. 2. Accessibili ty: written for a non-mathematical readership. 3. Examples: t he book provides a single database to illustrate different techniques.