Working with the Core Relationship Problem in Psychotherapy: A Handbook for Clinicians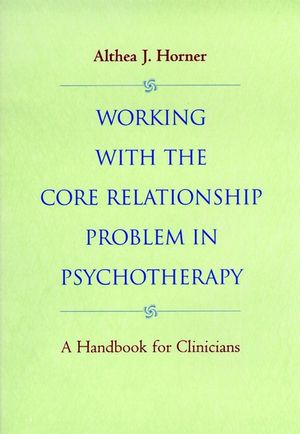 Working with the Core Relationship Problem in Psychotherapy: A Handbook for Clinicians
ISBN: 978-0-787-94301-1
Jul 1998, Jossey-Bass
185 pages
Description
A clinician's Rosetta Stone for understanding and treating presenting problems

"I highly recommend this book to therapists of all persuasions."--Allan N. Schore, department of psychiatry and biobehavioral sciences, University of California at Los Angeles School of Medicine

In this important book, noted author, teacher, and psychologist Althea J. Horner shows how to reveal, understand, and use the powerful core relationship problem -- which is formed from earliest childhood and creates an image of the self in relation to others -- so it can act as a Rosetta stone for understanding the underlying conflict that repeatedly plays out in a client's behavior. Once this essential element is uncovered, clinicians learn how to work with their clients to successfully resolve common presenting problems.
Foreword ix
Samuel Slipp
Preface xi
Introduction: The Unconscious and the Archaeology of Human Relationships xvii
Part One: The Core Relationship Problem 1
1 Construction of the Developmental Hypothesis: The Hypothesis
2 Construction of the Developmental Hypothesis: Method of Data Gathering 11
3 The Place of the Signifier in Psychoanalytic Object Relations Theory 23
4 The Contribution of Family System Pathology to Core Relationship Problems 35
5 Belief Systems and the Analytic Work 45
Part Two: some Common Clinical Problems and Issues 51
6 Deciphering the Compromise Formation: A Psychological Rosetta Stone 53
7 OCD: The Medicalization of Psychopathology and the Importance of Preserving a Psychology of the Mind 59
8 Working with Dissociated Self-States 69
9 Cherchez la Mere: Disturbances of Object-Seeking Behavior in the Wake of Early Abandonment Experiences 77
10 Money Issues and Analytic Neutrality 83
11 Religion, Values, and Clinical Issues 93
12 The Therapist's Core Relationship Problem: Countertransference Resistance 99
13 Moments of Decision: What Do I Say? What Do I do? 107
Part Three: Difficult Patients and Clinical Problems 115
14 Interminable Therapy and Transference Resistance 117
15 When Helping doesn't Help: The Negative Therapeutic Reaction 123
16 The Masochistic Personality Disorder – A Diagnosis worth Keeping: Working with the Good Girl and the Good Boy 129
17 "Those Wrecked by Success" Revisited: Envy and the Fear of Being Envied 143
18 Managed Care as a Clinical Issue 149
Part Four: For Supervisors Only 155
19 Core Relationship Problems and the Supervision Process 157
References 165
About the Author 173
About the Foreword Author 175
Index 177
"In this important book, Dr. Althea Horner, a remarkably skilled theoretician, continues to expand her developmental object relational model, a perspective that is solidly grounded in very recent findings in developmental psychopathology and neurobiology. But in addition, as a master clinician, she then demonstrates how an understanding of early- forming core relationship problems can offer penetrating insights into working with characterological disturbances. Due to her integrative contributions and extraordinary ability to explain complex clinical phenomena in clear and accessible language, I highly recommAnd this book to therapists of all persuasions." --Allan N. Schore, department of psychiatry and biobehavioral sciences, University of California at Los Angeles School of Medicine

"Once again, Althea Horner demonstrates that she is a master of the theory and practice of psychodynamic psychotherapy. In her latest book, Horner goes directly to the heart of the treatment. She clarifies the importance of identifying the core relationship problem early in treatment as it is the organizing principle for understanding the many layers of adaptive/defensive elaboration that accrue over the years. . . .The Core Relationship Problem in Psychotherapy is full of material that all clinicians--beginner and seasoned practitioners alike--will find thought provoking and rewarding." --Marion Solomon, author of Narcissism and Intimacy

"A testament to concision, wisdom, and instruction in psychotherapy. . . . My own experiences with patients flickered constantly through my thoughts as I read, and I was pleased to find new insights into clinical encounters about which I had previously been complacent. The handling of specific. . . . clinical issues all are considered with nondogmatic sensitivity." --Douglas H. Ingram, dean, American Institute for Psychoanalysis and clinical professor of psychiatry, New York Medical College

"Dr. Horner does it again! Her clear, concise style and compassionate tone draws the reader effectively through an education in the theory, art, and practice of psychodynamic psychotherapy, utilizing the core conflictual model. Every aspect of this most difficult of professions is elucidated by a elegant and common sense approach that leaves the student of psychotherapy with the feeling of having been touched by a master clinician." --William H. Rickles, M.D., private practice, Los Angeles, CA