Workplace by Design: Mapping the High-Performance Workscape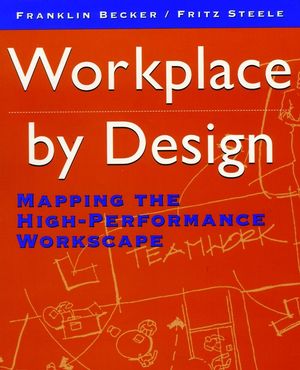 Workplace by Design: Mapping the High-Performance Workscape
ISBN: 978-0-787-90047-2
Apr 1995, Jossey-Bass
256 pages
Description
Create workspace that supports business strategies

Space is an organization's second most valuable asset. Yet little attention is paid to how it supports the new ways in which today's organizations operate---teamwork, flattened hierarchies, telecommuting, collaborating across functions. Workplace by Design shows CEOs and managers alike how to put aside and rethink conventional, awkward notions of space utilization based on hierarchy and status--notions that pit people against each other in turf wars, tear apart teams, and tie up company cash. Using illustrative examples from Digital Equipment Corporation, Steelcase, and others, the authors show how team environments, non-territorial offices and other strategies can support business objectives, energize employees, and produce a more competitive organization.
Part One: The Workspace as a Tool for Achieving Goals.

1. Space: The Organizations Second Most Expensive Resource.

2. Understanding Organizational Ecology.

3. Rethinking Status, Identity, and Space.

4. Designing to Accommodate Change.

5. Making Space for Teamwork.

6. Creating a Healthy Environment.

7. Supporting Remote Work.

8. Making Effective Use of Non-Territorial Offices.

9. Developing an Integrated Workplace Strategy.

Part Two: Putting Space to Work.

10. Up-Front Planning: Launching a Vision-Driven Workplace.

11. The Role of Leadership: Championing the Workplace Vision.

12. Quality and Return on Investment: Spending Money Where It Will Make a Difference.

13. Making It Happen: Turning Workplace Vision Into Reality.
"Workplace by Design provides executive leadership with the necessary expert advice and technical guidance to deliver and manage the new workplaces in a way that matches exceptional cost savings with extraordinary organizational effectiveness." —Michael A. Bell, director, Corporate Real Estate, The Dun & Bradstreet Corporation
"This book picks up where Handy's The Age of Unreason leaves off. It poses a case for a leader to contemplate his or her company as an 'ecosystem' and to reframe issues of the employee environment as akey strategic function and not a tactical after thought." —Laurie Coots, director of Business Development, Chiat/Day
??A very readable and practical book?Offers a number of interesting perspectives on organisational consulting?? (The Occupational Psychologist, December 2002)