World City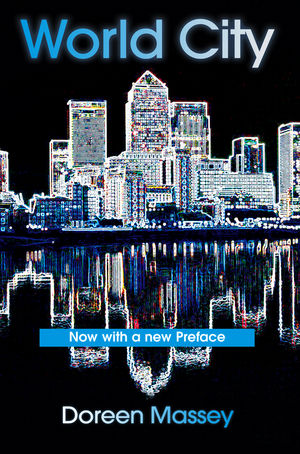 World City
ISBN: 978-0-745-64059-4
Sep 2007, Polity
272 pages
Description
Cities around the world are striving to be global. This book tells the story of one of them, and in so doing raises questions which are essential for all cities. These questions concern identity, place, and political responsibility in the changing geographies of our times. The book also tells the story of the rise of a new class, of deepening inequality, and of the geographical imaginations that are mobilised to legitimate the increasing dominance of these powerful metropoles. In so doing, it sets the global city in its wider geographical and political context.

World City focuses its account on London, one of the greatest of these global cities. London is a city of delight and of creativity, of the generation of vast wealth and of acute poverty. It also presides over a country increasingly divided between North and South and over a neo-liberal form of globalisation the deregulation, financialisation and commercialisation of all aspects of life that results in an evermore unequal world.

World City explores how we can understand this complex narrative and asks a question that should be asked of any city: what does this place stand for?

This book will appeal to students of human geography, politics and sociology as well as to the general reader.
Acknowledgements vii
Preface: After the Crash ix
Introduction: 'the future of our world'? 1
Part I Inventing a world city 27
1 Capital delight 29
2 'A successful city, but . . .' 54
3 Imagining the city 73
Part II The world city in the country 95
4 The golden goose? 97
5 An alternative regional geography 114
6 Who owes whom? 130
7 Reworking the geographies of allegiance 149
Part III The world city in the world 163
8 Grounding the global 165
9 Identity, place, responsibility 177
10 A politics of place beyond place 188
Concluding reflections 211
Notes 218
References 232
Index 251
"
World City
is that rarest of commodities: a geographic text that is, at one and the same time, both theoretically astute, politically insistent and publicly accessible."
Phil Hubbard, Area book review forum
"A brave and worthwhile attempt at creating a 'public geography', an effort to take insights developed during a career in our discipline to wider audiences. The book is written in a wonderfully open and accessible manner, using language that is neither wilfully exclusionary nor obscure."
Sarah Holloway, Phil Hubbard, Heike Jons, Liz Mavroudi and Pat Noxolo, Area book review forum
"An excellent theoretical treatment of London's entanglement in a web of economic, political, social, cultural, and power relations, and it forms the basis for a powerful political manifesto that confronts traditional notions of "place"-based policies and also challenges world cities to take responsibility bestowed upon them through their privileged position in the geometry of power and develop policies that go beyond the administrative boundaries that traditionally defined place."
Journal of Regional Science
"A fascinating insight into London and the politics of place, highlighting not only the social and economic geographies which result but also the questions of moral responsibility world city status implies."
New Zealand Geographer
"A fascinating read. Through her distinctive analytical lens, Massey has produced a masterpiece on the politics of what it means to be a 'world city'."
Economic Geography Research Group
"World City is well worth pondering, beyond even the question of equity or, more succinctly, of growth with social justice. The time has come for a new politics of development based on a logic other than the logic of markets and unlimited accumulation, in short, for a human and Earth-centred development in which the quality of life and of the Earth's eco-systems move to centre stage."
John Friedmann, Urban Studies
"There are more than seven million Londoners now, and more to come. Massey's work suggests that there is also more than one London."
Fran Tonkiss, British Journal of Sociology
"An important intervention into the rich literature on globalization and cities, a dimension of global social relations to which International Relations scholars would do well to pay much greater attention."
International Studies Review
"Written in an accessible style, free of academic jargon ... a text that students should read."
Geography


New book by Doreen Massey which explores the politics of the global city

Concentrates on London in the global age, asking: what the city stands for in a geographical and political context

Explores identity, space, politics and place and how these play into an analysis of global cities

'World City' explores how we can understand this complex narrative and asks the question that should be asked of any city: what does this place stand for?