World Literature in Theory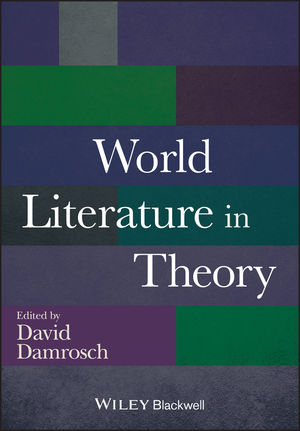 World Literature in Theory
ISBN: 978-1-118-40769-1 January 2014 Wiley-Blackwell 544 Pages
Description
World Literature in Theory provides a definitive exploration of the pressing questions facing those studying world literature today.
Coverage is split into four parts which examine the origins and seminal formulations of world literature, world literature in the age of globalization, contemporary debates on world literature, and localized versions of world literature
Contains more than 30 important theoretical essays by the most influential scholars, including Johann Wolfgang von Goethe, Hugo Meltzl, Edward Said, Franco Moretti, Jorge Luis Borges, and Gayatri Spivak
Includes substantive introductions to each essay, as well as an annotated bibliography for further reading
Allows students to understand, articulate, and debate the most important issues in this rapidly changing field of study
Introduction: World Literature in Theory and Practice 1
Part One: Origins 13
1 Conversations with Eckermann on Weltliteratur (1827) 15
Johann Wolfgang von Goethe
2 The Emergence of Weltliteratur: Goethe and the Romantic School (2006) 22
John Pizer
3 Present Tasks of Comparative Literature (1877) 35
Hugo Meltzl
4 What Is World Literature? (1886) 42
Hutcheson Macaulay Posnett
5 World Literature (1907) 47
Rabindranath Tagore
6 A View on the Unification of Literature (1922) 58
Zheng Zhenduo
Part Two: World Literature in the Age of Globalization 69
7 Reflections on Yiddish World Literature (1938–1939) 71
Melekh Ravitsh and Borekh Rivkin
8 Should We Rethink the Notion of World Literature? (1974) 85
René Etiemble
9 Constructing Comparables (2000) 99
Marcel Detienne
10 Traveling Theory (1982) 114
Edward W. Said
11 Toward World Literary Knowledges: Theory in the Age of Globalization (2010) 134
Revathi Krishnaswamy
12 Conjectures on World Literature (2000) and More Conjectures (2003) 159
Franco Moretti
13 World Literature without a Hyphen: Towards a Typology of Literary Systems (2008) 180
Alexander Beecroft
14 Literature as a World (2005) 192
Pascale Casanova
15 Globalization and Cultural Diversity in the Book Market: The Case of Literary Translations in the US and in France (2010) 209
Gisèle Sapiro
16 From Cultural Turn to Translational Turn: A Transnational Journey (2011) 234
Susan Bassnett
Part Three: Debating World Literature 247
17 Stepping Forward and Back: Issues and Possibilities for "World" Poetry (2004) 249
Stephen Owen
18 To World, to Globalize: World Literature's Crossroads (2004) 264
Djelal Kadir
19 For a World-Literature in French (2007) 271
Michel Le Bris et al.
20 For a Living and Popular Francophonie (2007) 276
Nicolas Sarkozy
21 Francophonie and Universality: The Ideological Challenges of Littérature-monde (2009) 279
Jacqueline Dutton
22 Universalisms and Francophonies (2009) 293
Françoise Lionnet
23 Orientalism and the Institution of World Literatures (2010) 313
Aamir R. Mufti
24 Against World Literature (2013) 345
Emily Apter
25 Comparative Literature/World Literature: A Discussion (2011) 363
Gayatri Chakravorty Spivak and David Damrosch
Part Four: World Literature in the World 389
26 The Argentine Writer and Tradition (1943) 391
Jorge Luis Borges
27 Cultures and Contexts (2001) 398
Tania Franco Carvalhal
28 An Idea of Literature: South Africa, India, the West (2001) 405
Michael Chapman
29 The Deterritorialization of American Literature (2007) 416
Paul Giles
30 Islamic Literary Networks in South and Southeast Asia (2010) 437
Ronit Ricci
31 Rethinking the World in World Literature: East Asia and Literary Contact Nebulae (2009) 460
Karen Laura Thornber
32 Global Cinema, World Cinema (2010) 480
Denilson Lopes
33 The Strategy of Digital Modernism: Young-hae Chang Heavy Industries' Dakota (2008) 493
Jessica Pressman
Epilogue: The Changing Concept of World Literature 513
Zhang Longxi
Index 524