World Markets for Textile Chemicals: North America, Western Europe, and Japan (1999-2009)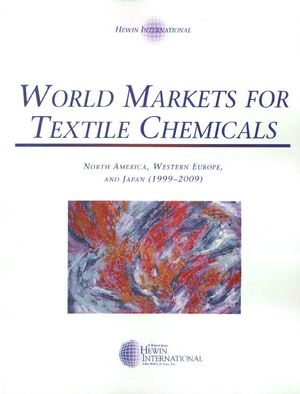 World Markets for Textile Chemicals: North America, Western Europe, and Japan (1999-2009)
ISBN: 978-0-471-36351-4 July 1999 250 Pages
Description
Textile fiber consumption has been growing globally at a healthy 4.75% annual growth rate during the 1990s, and the market for textile chemicals, essential for the processing of these fibers, has kept up with this pace. Hewin International's 278-page report provides a comprehensive overview of the various textile chemical categories, evaluates their markets and consumption patterns, analyzes the textile chemical industry, gives corporate profiles of some selected companies, and presents comprehensive estimates of the global textile chemical market through 2009.
Table of contents
Overview of the Textile Industry.
Textile Chemicals.
Markets for Textile Chemicals.
The Textile Chemicals Industry.
Global Scenario for Textile Chemicals (1999-2004-2009).
Appendix.