World Poverty for Dummies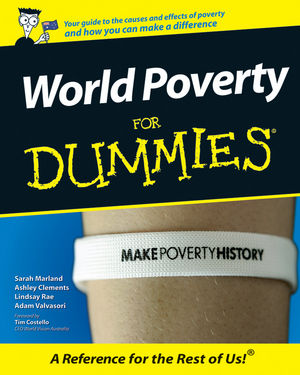 World Poverty for Dummies
ISBN: 978-1-118-34869-7 March 2012 300 Pages
Description
Created especially for the Australian customer!
Uncover the global building blocks of poverty
Ending world poverty is possible -- and you can help. With World Poverty For Dummies, you find out about the building blocks of poverty, as well as its varying causes and manifestations in different regions around the world. Most importantly, you discover inspiring stories of change and actions you can take -- from changing your consumer and investment choices or lobbying your government, to becoming an aid worker.
Discover:
The real situation of the global poor
Life in the world's megacities
Solutions that address poverty
Ways to get your friends onboard
How to become an aid worker
Table of contents
Foreword.
Introduction.
Part I: For Richer or Poorer.
Chapter 1. Rich World, Poor World.
Chapter 2. What's Wrong With Being Poor?
Chapter 3. The Geography of Poverty.
Chapter 4. So You Want to Make a Difference?
Part II: Poverty's Building Blocks.
Chapter 5. Shadows of the Past.
Chapter 6. Conflict and Disaster.
Chapter 7. The Cult of Bribery, Corruption and Theft.
Part III: Poverty Under the Microscope.
Chapter 8. Women: The World's Poor.
Chapter 9. Hunger and Thirst.
Chapter 10. The Foundations of Learning.
Chapter 11. Livelihoods Lost.
Chapter 12. Getting Sicker, Dying Younger.
Part IV: Poverty's Outlook.
Chapter 13. Migration and Human Trafficking.
Chapter 14. Creating a Planet of Slums.
Chapter 15. Climate Chaos and World Poverty.
Part V: Economics and Levers of Change.
Chapter 16. Scrambling for Global Resources.
Chapter 17. Harnessing the Might of Money.
Chapter 18. Delivering Aid That Works.
Chapter 19. The Lie of the Level Playing Field: World Trade.
Chapter 20. Escaping the Vortex of Debt.
Part VI: The Part of Tens.
Chapter 21. Ten Most Exciting Stories of Change.
Chapter 22. Ten Plus Hazards on the Horizon.
Chapter 23. Ten Informative and Inspiring Movies.
Chapter 24. Ten Actions You Can Take.
Index.