World on Film: An Introduction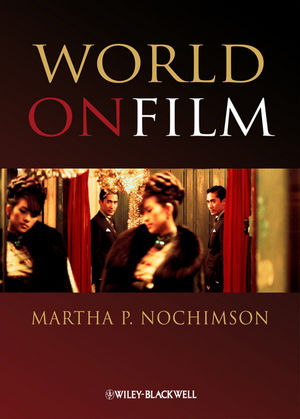 World on Film: An Introduction
ISBN: 978-1-405-13979-3 February 2010 Wiley-Blackwell 460 Pages
Description
This uniquely engaging and lively textbook provides a comprehensive introduction to international film, from the golden age of European cinema to the contemporary blockbusters of India and Asia, and the post World War II emergence of global film culture.
Offers an overview of film culture in European countries such as France, Sweden and Spain, as well as Africa, Hong Kong, China, and India, in a clear and conversational style to engage the student reader
Provides a detailed exploration of the impact of globalization on international cinema

Addresses the differences in visual and narrative strategies between Hollywood-influenced movies and international cinema 

Highlights key words within the text and provides a comprehensive glossary of critical vocabulary for film studies

Includes over 80 film stills throughout the text, and a comprehensive companion website with a 'troubleshooting guide' for instructors that includes suggested syllabi at www.wiley.com/go/worldonfilm

Each chapter includes in-depth case studies of individual films and directors, cultural and historical context, selected filmographies, and ideas for projects, essays, and further research
Acknowledgments ix
How to Use This Book x
Part I Nations Make Movies 1
Introduction: Other Languages, Other Stories 2
The Point, So Far 11
Talking about International Film 11
National Film Cultures 14
Questions in the Chapters 18
Summary 19
For Further Thought 21
Projects 21
Further Reading 22
1 France: French Revolutions at the Movies 23
The Movies Are Born in France 28
Case Study: Jean Renoir 31
Renoir's Peers and the Golden Age of French Cinema 38
For Further Thought 44
Projects 44
The Fourth and Fifth Republics and the Prologue to the New Wave 45
The New Wave 49
Case Study: Jean-Luc Godard 51
Beyond the New Wave 62
For Further Thought: Dogme 95 68
Mini Research Mission 68
Projects 69
Further Reading 69
2 Russia: Utopia and Dystopia 71
The Russian Revolution and the Golden Age of Soviet Cinema 76
Stalinism and the Ebb and Resurgence of Soviet Cinema 89
For Further Thought 91
Projects 92
New Freedoms 93
Case Study: Andrei Tarkovsky 93
Post-Soviet Cinema 101
Mini Research Mission 106
For Further Thought 106
Projects 106
Further Reading 107
3 Germany: From Darkness toward Light 108
Early History 113
For Further Thought 123
Projects 124
Nazi Cinema and Beyond 124
Case Study: Werner Herzog 136
New German Cinema and the International Community 142
Mini Research Mission 143
For Further Thought: East German Cinema 143
Projects 148
Further Reading 149
4 Italy: The Myth of History, Neorealism, and Beyond 150
Italian Cinema and the Risorgimento 154
The Evolution of Neorealism 158
For Further Thought 173
Projects 174
Case Study: Federico Fellini 174
Debating Italian Postwar Recovery 182
Mini Research Mission 193
For Further Thought 193
Projects 194
Further Reading 194
5 Japan: Screening Feudalism and Modernism 195
Early Film in Japan 198
Meiji Era and Taishd Era Japanese Cinema (1896–1926) 202
Film During the Shdwa Era 205
Case Study: Akira Kurosawa 214
For Further Thought 224
Projects 224
The New Wave and Beyond 225
Mini Research Mission 234
For Further Thought 234
Projects 235
Further Reading 236
6 India: Cinema of Combination and Contradiction 237
Film in Colonial India 243
Early Postcolonial Indian Film 247
For Further Thought 256
Projects 257
Bollywood Takes Charge 258
Case Study: Amitabh Bachchan 259
Bollywood and Parallel Cinema 270
Mini Research Mission 275
For Further Thought 276
Projects 277
Further Reading 278
Part II Movie Making in the Global Village 279
Introduction: They Do It Their Way 280
When Is a Film Foreign? 280
Reading Movies in the Global Village 287
Culture under a Microscope: A Modern Muddle or a 288
New Mirror?
Mini Research Mission 289
For Further Thought 290
Projects 290
Further Reading 291
7 Spain: Luis Buñuel, Playing with Ideas 292
The Arc of Buñuel's Career 298
Conclusion 306
Mini Research Mission 306
For Further Thought 307
Projects 308
Further Reading 309
8 Sweden: Ingmar Bergman, Being and Nothingness 310
The Arc of Bergman's Career 315
Conclusion 326
Mini Research Mission 327
For Further Thought 327
Projects 329
Further Reading 330
9 Hong Kong: Wong Kar-wai, Now You See It . . . 331
The Arc of Wong's Career 338
Conclusion 349
Mini Research Mission 350
For Further Thought 351
Projects 352
Further Reading 353
10 Senegal: Ousmane Sembene, Postcolonial Pioneer 354
The Arc of Sembene's Career 359
Conclusion 374
Mini Research Mission 374
For Further Thought 375
Projects 376
Further Reading 377
11 Mainland China: Jia Zhangke, Freedom and the Sixth Generation 378
The Arc of Jia's Career 385
Conclusion 399
Mini Research Mission 399
For Further Thought 400
Projects 401
Further Reading 401
Glossary 402
Index 418
Offers an overview of film culture in European countries such as France, Sweden and Spain, as well as Africa, Hong Kong, China, and India, in a clear and conversational style to engage the student reader

Provides a detailed exploration of the impact of globalization on international cinema

Addresses the differences in visual and narrative strategies between Hollywood-influenced movies and international cinema 

Highlights key words within the text and provides a comprehensive glossary of critical vocabulary for film studies

Includes over 80 film stills throughout the text, and a comprehensive companion website with a 'troubleshooting guide' for instructors that includes suggested syllabi at

www.wiley.com/go/worldonfilm

Each chapter includes in-depth case studies of individual films and directors, cultural and historical context, selected filmographies, and ideas for projects, essays, and further research