Worlds Between: Historical Perspectives on Gender and Class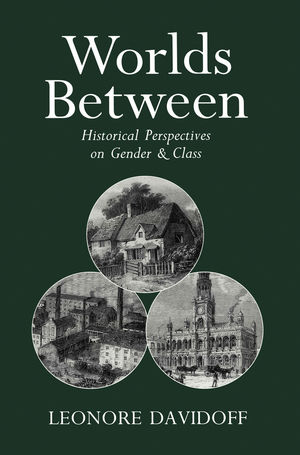 Worlds Between: Historical Perspectives on Gender and Class
ISBN: 978-0-745-60984-3 June 1995 Polity 288 Pages
Description
This book presents a series of pioneering studies which together constitute a reappraisal of our understanding of the relationship between gender and history.
List of Illustrations vii
Acknowledgements ix
Introduction 1
1 Mastered for Life: Servant and Wife in Victorian and Edwardian England 18
2 Landscape with Figures: Home and Community in English Society (with Jeanne L'Esperance and Howard Newby) 41
3 The Rationalization of Housework 73
4 Class and Gender in Victorian England: The Case of Hannah Cullwick and A.J. Munby 103
5 The Separation of Home and Work? Landladies and Lodgers in Nineteenth- and Twentieth-Century England 151
6 The Role of Gender in the 'First Industrial Nation': Farming and the Countryside in England, 1780–1850 180
7 Where the Stranger Begins: The Question of Siblings in Historical Analysis 206
8 Regarding Some 'Old Husbands' Tales': Public and Private in Feminist History 227
PART I: Adam Spoke First and Named the Orders of the World 231
PART II: As Ye Sow, So Shall Ye Reap: Concepts and their
Consequences 249
"No historian in the past twenty years has made a more significant contribution to the history of family and gender than Leonore Davidoff. The two well-known essays on domestic service in Victorian England, reprinted here, show this approach at its most sophisticated and regarding, but there is much else in this rich volume, notably Davidoff's more recent reflections on feminist history."
History Today
"[A] fine collection ... [which] retain[s] a freshness and originality. This collection brings together some of the most influential essays in feminist history. There is little scope in this review to do justice to the depth and richness of this excellent collection. Her mastery of her subject and material, the detailed evidence she brings to bear, the sheer breadth of her understanding and scholarship, deserves to make this collection a classic as each essay, in its turn, has already become." Reviews in History
Combines vivid and engaging empirical analysis with innovative ideas at the conceptual level, drawing on a variety of disciplines
Opens up questions about the meaning and structure of the family, work and politics through studies of the rationale behind living arrangements, the construction of the home and housework
The essays investigate links between psychic and emotional levels with wider economic, social and cultural patterns
The essays include a central focus on family and kinship. But they are also concerned with gender, masculinity as well as femininity and the roles of both women and men, which is often absent from family history.