Worlds of Talk: The Presentation of Self in Everyday Conversation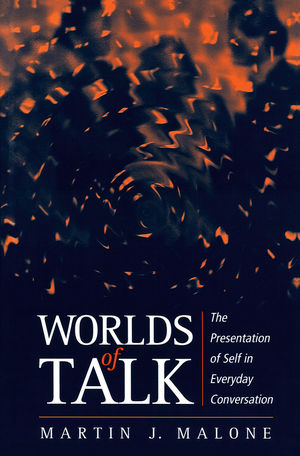 Worlds of Talk: The Presentation of Self in Everyday Conversation
ISBN: 978-0-745-66763-8 May 2013 Polity 196 Pages
Description
This book is about how we present our selves in everyday talk and interaction. Selves and conversations are skilful accomplishments requiring trust, dependency, and co-ordination. They are produced by multiple partners co-operating in the production of social events. The self is a 'performed character' - a 'dramatic effect' in Goffman's terms - which results from shaping our behavior to create a desired impression. Talk is both the means and the product of such events. Selves live in worlds that talk creates.
Using the methods of conversation analysis, this book seeks to discover how selves are created and transformed in everyday talk. It examines how pronouns are used to create interactional boundaries, the strategic manipulation of interactional support, talk in dealing with conflict, and stylistic differences associated with gender. Theoretical discussion is combined with fine-grained analysis of ordinary conversations.
The book will be of particular interest to students and professionals in sociology, social psychology, sociolinguistics and communication studies.
Table of contents
Preface and Acknowledgements ix
Transcription Conventions xiv
1 The Interaction Order and the Self 1
2 Pragmatic and Phenomenological Foundations of Interactionism 21
3 Pronouns, Interactional Roles, and the Construction of a Conversation 42
4 Gender and Talk: Ideology and Interaction 77
5 How to Do Things with Friends: Altercasting and Recipient Design 100
6 Small Disagreements: Character Contests and Working Consensus 120
7 Conclusions 140
Appendix: Data and Methods 150
Notes 156
References 164
Index 179
Reviews
"Malone sets out to demonstrate that sociological notions - particularly those of symbolic interactionism - can profitably be used to understand what goes on in talk and that sociology itself would profit from a recognition of talk as fundamental sociological data. He does this by examining records of extensive contexted conversational fragments and by showing how the talk itself enables one to elaborate the concepts of self, interaction, gender, ideology and moral order. His arguments, documented by actual talk, are persuasive." Allen Grimshaw
Features
Fascinating account of how we present ourselves in everyday talk and conversation which is explained through methods of conversation analysis.
Combines theoretical discussion with fine-grained analysis of ordinary conversation
Offers an understanding towards how selves are created and transformed in everyday talk.