Wrestling with Our Inner Angels: Faith, Mental Illness, and the Journey to Wholeness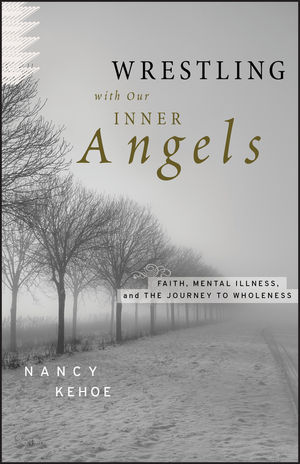 Wrestling with Our Inner Angels: Faith, Mental Illness, and the Journey to Wholeness
ISBN: 978-0-470-45541-8 May 2009 Jossey-Bass 176 Pages
Description
Wrestling with Our Inner Angels is Nancy Kehoe's compelling, intimate, and moving story of how she brought her background as a psychologist and a nun in the Religious of the Sacred Heart to bear in the groups she formed to explore the role of faith and spirituality in their treatment – and in their lives. Through fascinating stories of her own spiritual journey, she gives readers of all backgrounds and interests new insights into the inner lives of the mentally ill and new ways of thinking about the role of spirituality and faith in all our lives.
Table of contents
Foreword ix
Acknowledgments xi
Prologue xv
1 Exploring New Terrain 1
2 Beverly's Quest 19
3 Creative Spirits 35
4 Buddy, an Unlikely Prophet 53
5 The Role of Ritual 71
6 The Dilemma of Voices 91
7 Wrestling with God 107
Epilogue 129
Appendix Religious History Questionnaire 131
Notes 139
The Author 143
Index 145
Reviews
The shadow of Freud and his view of religion as illusion still looms over psychotherapy, making it problematic for therapists to engage their clients about a subject that can be of great importance and potential benefit. Because she is both a nun and a clinician, author Kehoe can draw on both her psychological and religious training to approach with insight and sensitivity the role of belief and motivation in the lives of people troubled by mental illness. Neither illusion nor panacea, religious belief helps people organize their lives and make decisions. Kehoe has listened for years to people with illness, and she shares their compelling stories. She also discloses her own wrestling with inner religious promptings and their influence in her own choices. This book will be most helpful to other professionals in the field, but its honesty and humility also make it useful for anyone interested in faith and mental illness, particularly anyone with an emotional stake in the difficulties of mental illness.
(June)
(
Publishers Weekly
, May 11, 2009)
"Wrestling With Our Inner Angels is an important book...All concerned with faith, mental health and the journey to wholeness -- whether from a spiritual-religious or a psychological perspective -- will not only enjoy reading this book but be encouraged to reflect more deeply on the author's thesis." (America magazine October 26, 2009)