Writing Opinion for Impact, 2nd Edition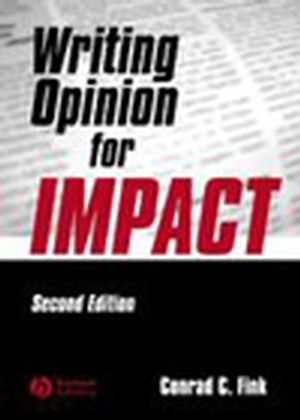 Writing Opinion for Impact, 2nd Edition
ISBN: 978-0-813-80751-5 November 2004 Wiley-Blackwell 356 Pages
Description
Good editorial writing has the potential to start a war – or avoid one. Is it any wonder event the most experienced journalists find opinion writing important and fascinating? In this fully updated and revised second edition of Writing Opinion for Impact, author Conrad Fink provides the guidance for translating the basics into opinion writing that is reasoned, forceful, responsible, engaging and readable. New to this edition is a stand-alone chapter on Commentary for Cyberspace and Broadcast, with an expanded discussion of writing for online publications, including a discussion of Slate, other Internet services, and blogs. Also new to this edition is the inclusion of full-length editorials complete with the author's commentaries that elaborate on teaching points from the chapters. These editorial reprints and author commentaries include: editorials from leading newspaper and magazine publications; a political commentary column; a humor column; a sports column; a film review; and columns on business and lifestyle. New or expanded coverage also includes: discussion of plagiarism and outright lying that struck column-writing in recent years; staying fair and balanced in reporting; computer assisted reporting, including Web sites; career progression for columnists; the trend toward campus newspaper columns containing frank sex advice. Aspiring editorial writers and columnists – whether students or journalists in transition – will find the second edition of Writing Opinion for Impact an invaluable guide to the responsibilities, techniques, and art of opinion writing.
Introduction ix
Acknowledgements xii
Part One: Setting the Scene 1
1 The Responsibilities of Opinion Writers 3
2 Identifying Issues for Comment 23
3 Reporting and Researching Your Opinions 43
Part Two: Writing to win readers 63
4 Writing Newspaper Editorials 65
5 Writing Magazine Editorials 99
Part Three: Writing Personal Columns 123
6 Commentary that Hits Hard 125
7 Amusing, Entertaining or Making 'em Cry 159
8 The Fun and Business of Sports 187
Part Four: Arts Reviews and Criticism 219
9 You and Arts Commentary 221
Part Five: Extra Dimensions in Commentary and Opinion 253
10 Specialty Columns and Comment 255
11 Commentary for Cyberspace and Broadcast 281
12 On Campus Today: How it's Done 299
Part Six: You and the Law: Write Defensively 321
13 Avoiding Legal Traps for Opinion Writers 323
Name Index 343
Subject Index 353


Abundant examples from the work of acclaimed writers


Quoted advice or observations from noted professionals as well as policy statements and codes of prominent organisations in academia and in the print media


Case studies, summaries, exercises and recommended reading in each chapter.