Writing Women's Lives: American Women's History through Letters and Diaries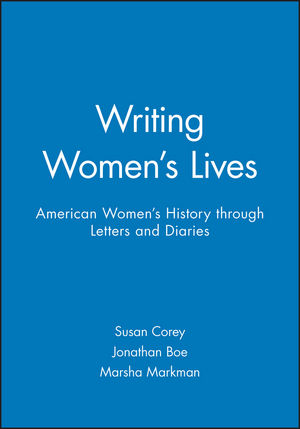 Writing Women's Lives: American Women's History through Letters and Diaries
ISBN: 978-1-881-08932-2 August 1999 Wiley-Blackwell 352 Pages
Download Product Flyer
Download Product Flyer
Download Product Flyer is to download PDF in new tab. This is a dummy description. Download Product Flyer is to download PDF in new tab. This is a dummy description. Download Product Flyer is to download PDF in new tab. This is a dummy description. Download Product Flyer is to download PDF in new tab. This is a dummy description.
Description
The 69 selections in this volume are for the most part the voices of women who saw themselves not as inhabiting a separate and enclosed sphere but as coworkers, often but not always in specialized female tasks, in a common enterprise: tending fields, raising children, coping with the stresses of wartime. Some of the women here have written and acted demanding full partnership in the social institutions that they were expected to sustain mostly as subordinates. Together, the entries give a rich depiction of an American womanhood that, even when perceived by husbands, politicians, and scholars as the other, was a participant in a history committed, at least in theory, to equality.
Table of contents
Part 1: The Colonial and Revolutionary Eras, From the Beginnings to 1789.
1. Sarah Kemble Knight: A Colonial Woman's Journey, 1704-1705.
2. Mary Stafford: A Letter from the New World, 1711.
3. Elizabeth Magawley: A Woman Speaks Out: Letter to the Editor, 1730/31.
4. Eliza Lucas: On Managing a Southern Plantation, 1740.
5. Elizabeth Sprigs: The Plight of an Indentured Servant, 1756.
6. Phillis Wheatley: A Plea for Equal Rights for Negroes, 1774.
7. Abigail Adams: "Remember the Ladies": Letters on Women's Rights, 1776.
8. Catherine Van Cortlandt: The Revolutionary War: Letters of a Loyalist Wife, 1776-1777.
9. Belanda: Petition of a Slave to the Massachusetts Legislature, 1782.
10. Martha Ballard: A Midwife's Diary, 1787-1798.
11. Abigail Abbot Bailey: The Difficulty of Leaving an Abusive Husband, 1788-1789..
Part 2. A Growing Nation, 1789-1861.
12. Eliza Southgate Bowne: Letters of a New England Teenager, 1800-1801.
13. Mary and Henry Lee: New Ideas about Marriage, 1810-1816.
14. Anonymous: Cherokee Women's Petition, 1817.
15. Sarah and Angelina Grimke: Letters on Abolitionism and Women's Rights, 1837.
16. Sarah White Smith: On the Overland Trail, 1838.
17. Fanny Kemble: Diary from a Georgia Plantation, 1839.
18. Elizabeth Cady Stanton: Letters on Women's Rights and Changing Gender Roles, 1840-1899.
19. Mary Paul: Letters from the Lowell Mills and a Utopian Community, 1845-1855.
20. Fanny Appleton Longfellow: First Childbirth with Ether, 1847.
21. Calista Hall, William Dorsey Pender, and Emily Fitzgerald: Letters about Birth Control and Abortion, 1849-1875.
22. Ellen Birdseye Wheaton: The Struggle Between Family Obligations and Self-Expression, 1850-1856.
23. Ellen Lee: On Teaching School in Indiana, 1852.
24. Emily Dickinson: The Language of Female Friendship: Letters to Susan Gilbert, 1852-1854.
25. Lucy Stone: A Women's Right Advocate Contemplates Marriage, 1853-1855.
26. Ellen Spencer Clawson and Ellen Pratt McGary: Mormon Women's Letters on Polygamy, 1856-1857..
Part 3: The Era of the Civil War and Reconstruction, 1861-1877.
27. Judith Cocks, Emily, Susan (Sukey) & Ersey, Harriet Newby, and Louisa Alexander: Letters from Slaves, 1795-1863.
28. Charlotte Forten: The Diary of an African-American Teacher and Reformer, 1854-1862.
29. Marry Chesnut: A Southern Aristocrat's Diary During the Civil War, 1861-1865.
30. Cornelia Hancock: Letters of a Civil War, 1863-1865.
31. Elizabeth Haas Canfield: An Officer's Wife in Indian Territory, 1867-1868.
32. Sister Monica: Diary of a Journey to Arizona, 1870.
33. Mary Abell: Letters of a Kansas Homesteader, 1871-1875.
Part 4: Expansion and Industrialization, 1877-1919.
34. Juanita Breckenridge: Letters of a Clergywoman, 1872-1893.
35. Mrs. A Beaumont, Jane E. Sobers, Mrs. H. Griswold, Alzina Rathburn, Mrs. Mary Travis, Live Pryor, Mrs. Callor, and Mrs. L. M. R. Pool: Letters to Susan B. Anthony on Suffrage and Equal Rights for Women, 1880.
36. Elizabeth Fedde: Social Worker in Brooklyn, 1883-1888.
37. Wilhelmine Wiebusch: A Young Immigrant Writes Home, 1884-1886.
38. Alice Hamilton: A Reformer at the Turn of the Century, 1893-1913.
39. Martha Farnsworth: The Campaign for Woman Suffrage, 1894-1914.
40. Zitkala-Sa (Gertrude Simmons Bonnin): The School Days of an Indian Girl, 1899(?).
41. Mother Jones: Letters of a Labor Organizer, 1901-1914.
42. Mabel S. Ulrich: A Wife, Mother, and Physicians, 1904-1932.
43. Martha Farnsworth and Henrietta Szold: Women's Responses to New Technology, 1905-1916.
44. Anonymous: "A Bintel Brief": Letters from Jewish Immigrant Women, 1907-1910.
45. Maimie Pinzer: Letters of a Former Prostitute, 1910-1911.
46. Alice Hamilton: Peace Activist: 1915-1919..
Part 5: Prosperity, Depression, and War, 1919-1945.
47. Anonymous: Letters to the Children's Bureau: Federal Aid for Women and Children, 1918-1928.
48. Mary Ritter Beard: On Knowledge, Politics, and Women's Rights, 1921-1946.
49. Margaret Sanger: Letters on Birth Control, 1925-1928.
50. Martha Lavell: Diary of a College Woman, 1926-1929.
51. M. Carey Thomas: Letters from an Early Feminist, 1932.
52. Lorena Hickok: Letters on the Great Depression, 1934.
53. Ann Marie Low: A Dust Bowl Diary, 1934-1937.
54. Winifred Woodley: Diary of a Suburban Housewife, 1935-1040.
55. Catherine Lang, Polly Crow, Hazel M. Burke, Ethel Pendelbury La Palme, Katherine McReynolds, and Edith Sokol Speert: Letters from the Homefront and the Battlefront, 1941-1945.
56. Elizabeth Vaughan: A Woman in Captivity, 1942-1943.
57. Sonoko Iwata: Detention-Camp Letters, 1942-1943.
58. Angusta Clawson: Shipyard Diary of a Woman Welder, 1943..
Part 6: Modern America, 1945 to the Present.
59. Anonymous: Questioning the Domestic Ideology: Letters to Betty Friedan on The Feminine Mystique, 1963.
60. Sharon Lane and Lynda Van Devanter: Letters from Vietnam, 1969.
61. Michelle Harrison: A Woman Doctor Confronts the Medical System, 1970s.
62. Bella Abzug (A Congressional Diary, 1971.
63. Anne Braden: An Open Letter on Gender and Race in the South, 1972.
64. Johanna Von Gottfried: Diary from the California Farm Workers Movement, 1973.
65. Nan Bishop, Sarah Hamilton, and Clare Bowman: Divorce and Single Motherhood, 1976-1977.
66. Toi Derricotte: Black in a White Neighborhood, 1977-1978.
67. Elaine Marcus Starkman: The Elderly and the Sandwich Generation, 1987-1990.
68. Marsha Carow Markman: Breast Cancer Diary, 1990.
69. Amparo Ramirez: An Undocumented Immigrant Writes to Her Children, 1988-1990.