Writing of America: Literature and Cultural Identity from the Puritans to the Present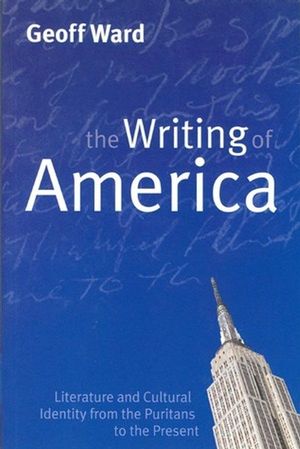 Writing of America: Literature and Cultural Identity from the Puritans to the Present
ISBN: 978-0-745-62622-2 June 2002 Polity 248 Pages
Description
In this lively and provocative study, Geoff Ward puts forward the bold claim that the founding documents of American identity are essentially literary. America was invented, not discovered, and it remains in thrall to the myth of an earthly Paradise. This is Paradise
TM
, and American ideology imprisons as it inspires.
The Writing of America shows the tension between these forces in a wide range of literary and other texts, from Puritan sermons and the Declaration of Independence, through nineteenth-century classics, to folk and blues lyrics and the popular novel. Alongside his provocative reassessments of canonical writers, Ward offers new material on lost or neglected figures from the world of literature, film and music. His acute and often startling analyses of American literature and culture make this an essential guide to what Lincoln termed the last best hope of earth.

Table of contents
Acknowledgements vi
Introduction: Paradise™ 1
1 Maps and Legends 11
2 American Literature and the Body Electric 31
3 Melville: Crises in Representation 67
4 'Eden is burning': Literature of the Popular Imagination 93
5 Going Fishing: Harry Smith, the Anthology of American Folk Music, and the Fan 136
6 Modernism and the Subversive Imagination 158
7 'Dedicated to America, whatever that is': Contemporary Literature and the Egress 188
Afterword: Meditations in an Emergency 213
Notes 215
Select Bibliography 224
Index 230
Reviews
"Ward's assessments of American literary texts from the Puritans to the present are wonderfully original and provocative. Whether discussing the 'poetry' of Harry Smith's anthology of popular music or the relations of nineteenth-century Gothic to contemporary science fiction, Ward always has something new and exciting to say. His range - from Melville to Frank O'Hara, from Charlotte Perkins Gilman to Stephen King, from Emerson to Toni Morrison - is dazzling. This is a book anyone who cares about American culture at the turn of the millennium will want to read."
Marjorie Perloff, Sadie Dernham Patek Professor Emerita in the Humanities, Stanford University

"This book is vibrant with an agile scholarship and a sinuously wide range of reading across genres, texts and ideas. It is generous in all dimensions, pursuing its arguments with a polemical wit, interspersing a meditative note that is playful, punning and joking with a productive scepticism that delights in manoeuvring through a variety of directions and in an occasional placing of the exotic word that shocks us into the dictionaries. Quite simply, this is one of the most stimulating books I have read in a long time." Ian F. A. Bell, Professor of American Literature, University of Keele

"this book provides a 'dazzling' and 'ample geography' of American writing. In many passages it is, simply, breathtaking... This is a book of wonderful conflations that both mark and urge a reading of America itself as a scene of conflicting and compelling energies. I am already recommending it to all my students" History

"A single volume history of American literature "from the beginnings up to now" has become a rarity. This makes The Writing of America a remarkably refreshing work." American Studies International
Features


A witty and accessible guide to key American authors and texts


Offers a radical re-reading of American literature from the Declaration of Independence to Stephen King


Puts forward a bold argument on the nature of American identity


Includes new material on lost or neglected figures from the world of literature, film and music