Writing the News: A Guide for Print Journalists, 3rd Edition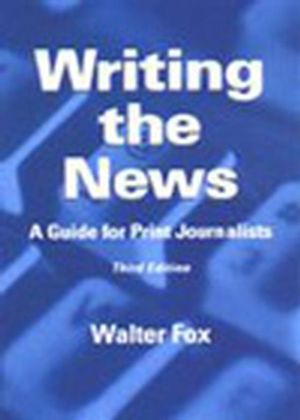 Writing the News: A Guide for Print Journalists, 3rd Edition
ISBN: 978-0-813-82248-8 June 2001 Wiley-Blackwell 157 Pages
Description
The third edition of Writing the News continues the tradition of its predecessors by providing journalists with a clear and concise introduction to the craft of newswriting. In addition to updating and adding to the number of examples from the contemporary press, this new edition includes a section on the increasingly popular narrative form of the news feature and an expanded chapter on news style.
Table of contents
Preface to the Third Edition vii

1 Writing for Newspapers 3

Early newspaper style. Structuring the news. Stripped-down prose. The electronic revolution. Interpretative news. The electronic newsroom.
2 Writing the Lead 15

Lead structure. Lead language. Other considerations in lead writing: attribution and identification. Memorable leads.
3 Developing the Story 33

Secondary leads. The fractured paragraph: key words, transitional devices, pronoun references. Information weaving. Ending the story.
4 The Elements of News Style 47

Choosing the right word. Writing good sentences: sentence style, sentence criteria.
5 The Spoken Word in Print 63

To quote or not to quote: direct quotes, paraphrase, accuracy. The mechanics of quoting: attribution, partial quotes, substitutes for "said."
6 Varieties of the Basic Structure 75

The multi-element story. The "hourglass" structure. The speech story: the advance text, note taking, speech story structure. The meeting story. The obituary.
7 News in Context 97

Making connections. Providing context. Localizing news. Using background. Developing news.
8 Featurizing the News 109

Traditional alternatives: page brighteners or brights, sidebars. Contemporary alternatives: the new graphics, featurized news, weekly feature styles.
9 Writing the Feature Story 125

Feature techniques. Feature development. Forms of the feature: the news feature, human-interest stories, personal profiles, narratives.
Suggested Readings 151
Index 153