Wrox's ASP.NET 2.0 Visual Web Developer 2005 Express Edition Starter Kit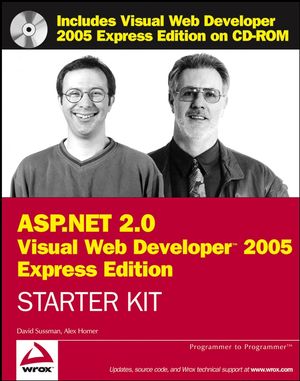 Description
This Starter Kit serves as an entry-level introduction centered around prebuilt projects that developers can easily deploy and customize for their own sites
Explains how to build good basic Web sites, including design and architecture, for users who plan to build more complex sites in the future
Details the key site features that beginners like to implement, including catalogs, shopping carts, images, and secure site sections
The authors use very little code, but where coding is needed, they feature the simple Visual Basic language
The CD-ROM includes Visual Web Developer 2005 Express Edition
Acknowledgments.
Introduction.
Chapter 1: Getting Started.
Chapter 2: Designing a Web Site.
Chapter 3: Building the PPQ Database.
Chapter 4: Accessing and Displaying Data.
Chapter 5: Displaying Nested and XML Data.
Chapter 6: Managing and Editing Data.
Chapter 7: Placing an Order.
Chapter 8: The Checkout Process.
Chapter 9: Security and Deployment.
Publishing Site.
Summary.
Index.
Anyone who is an HTML author or casual ASP.NET programmer could be in the audience to use this visual tool, included with the book, rather than coding ASP.NET by hand or using the expensive professional Visual Studio version. The "Express" version will get heavy promotion by Microsoft to this entry-level audience

Easy way to fast ASP.NET success: Short book focuses on getting a site up and working quickly using a "starter kit" template.
Chapter
Page
Details
Date
Print Run
14
Error in Text,3rd and 4th lines:

MenuItemType, ItemName, ItemSize, and ItemPrice
should be:
MenuItemType, ItemName, PizzaToppings, and GraphicFileName
3/3/06
15
Error in text,Step 7 should read:
...sort the rows Descending by MenuItemType and Ascending by ItemName...
6/20/06
27
Error in text,Step 12, should read:
...because debugging is not enabled in the web.config file...
6/20/06
28
Error in Figure Numbering,The figure number Fig 1-32 is duplicated. The figure on this page
corresponds to step 13. Fig 1-33 corresponds to step 14 and shows
sorting the rows, not highlighting a row.
6/20/06
29
Duplicate Figure,Fig 1-34 is duplicated and the second should be ignored.
6/20/06
2
33
Error in URL,ital paragraph at top of page, url at end should be:
http://quickstarts.asp.net/QuickStartv20/aspnet/doc/localization/localization.aspx
10/25/07
41
Code Error in Figure ,In Fig 2-8, the HTML code does not contain the setting for the TopMargin property until you press the Enter key.
6/20/06
52
Error in Figure,In Fig 2-18, the ID for the data source control should be:
SiteMapDataSource1.
6/20/06
68
Error in Table,Table at bottom of page:
The price of a medium Margherita Pizza should be 7.70.
6/20/06
70
Error in text,In the second paragraph, MenuItemID is not shown as shaded in the table.
6/20/06
71
Error in Table,Table at bottom of page:
Replace fkMenuItem with fkMenuItemType.
6/20/06
72
Error in Table,First table:
Replace column name Itemi with Item1 .
6/20/06
72
Error in text,In the paragraph under the diagram, the last line should be: ...empty columns in a row where...
6/20/06
73
Error in Table,Table 3-4, column heading OrderID should be fkOrderID.
6/20/06
73
Error in Table,ItemSize should be a Text column containing the size as Small, Medium, or Large.
6/20/06
73
Error in Table,fkMenuItemID in the second-last row should be 1, not 3.
6/20/06
75
Error in Figure,In Fig 3-3, the relationship for MenuItemID should link to fkMenuItemID.
6/20/06
80
Error in text,First paragraph:
the OrderDate column is not selected in Fig 3-7.
6/20/06
86
Error in text,In Step 7, the entry IX_Table1 does not appear in the dialog until you save the index.
6/20/06
87
Error in Table,The entry for PK_OrderItems does not exist until you save the table.
6/20/06
87
Error in Step,In Step 9, click Close in the Indexes/Keys dialog first.
6/20/06
89
Error in Step,After selecting fkOrderID, you must set the other two fields in the Primary Key to before clicking OK.
6/20/06
91
Error in Step,Step 2, after clicking Add, click Close to close the Add Table window.
6/20/06
91
Error in Step,In Step 3, if you created a relationship in the prev