X: The Experience When Business Meets Design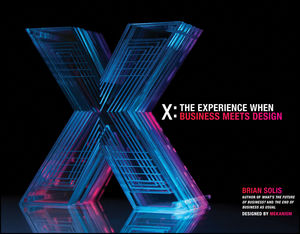 X: The Experience When Business Meets Design
ISBN: 978-1-118-45654-5 October 2015 256 Pages
Description
Welcome to a new era of business in which your brand is defined by those who experience it.
Do you know how your customers experience your brand today?
Do you know how they really feel?
Do you know what they say when you re not around?
In an always-on world where everyone is connected to information and also one another, customer experience is your brand. And, without defining experiences, brands become victim to whatever people feel and share.
In his new book X: The Experience When Business Meets Design bestselling author Brian Solis shares why great products are no longer good enough to win with customers and why creative marketing and delightful customer service too are not enough to succeed. In X, he shares why the future of business is experiential and how to create and cultivate meaningful experiences.
This isn't your ordinary business book. The idea of a book was re-imagined for a digital meets analog world to be a relevant and sensational experience. Its aesthetic was meant to evoke emotion while also giving new perspective and insights to help you win the hearts and minds of your customers. And, the design of this book, along with what fills its pages, was done using the principles shared within.
Brian shares more than the importance of experience. You'll learn how to design a desired, meaningful and uniform experience in every moment of truth in a fun way including:
How our own experience gets in the way of designing for people not like us
Why empathy and new perspective unlock creativity and innovation
The importance of User Experience (UX) in real life and in executive thinking
The humanity of Human-Centered Design in all you do
The art of Hollywood storytelling from marketing to product design to packaging
Apple's holistic approach to experience architecture
The value of different journey and experience mapping approaches
The future of business lies in experience architecture and you are the architect.
Business, meet design.
X
1.0 This is X
1.1 CX=$
1.2 Mediumism=The Message
1.3 The Gift of Perspective
2.0 Nature vs. Nurture
2.1 Skeumorphis
2.2 Business Meets Design
2.3 Moments of Truth
3.0 Circle of Rife
3.1 CX Redux
3.2 The Grid
4.0 Digital First
4.1 Design for Humans
4.2 BX + UX + CX = X
4.3 Human Alogorithm
5.0 Maps Are Us
5.1 Journey Mapping
5.2 Experience Maps
6.0 Holy Persona
6.1 Storytelling
6.2 Storyboarding
7.0 Experience Flow
8.0 X is Alive!
8.1 Apple's Universe
9.0 This is Water
Index