Xoom Companion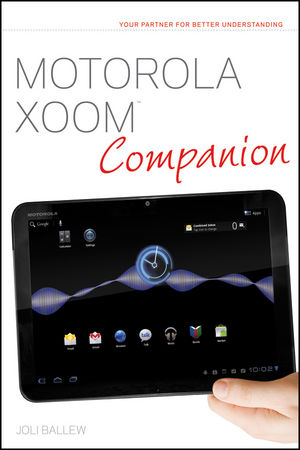 Xoom Companion
ISBN: 978-1-118-13064-3
May 2011
304 pages
Product not available for purchase
Description
An easy-to-follow guide that helps you get the most out of your Xoom device
Motorola Xoom is one of the hottest new tablets but the owner's manual only goes so far to cover features and functions. This full-color guide is packed with useful tips, invaluable advice, and easy-to-follow shortcuts that help you quickly get acquainted with the Motorola Xoom OS. You'll explore tasks such as working with e-mail, messaging, browsing, utilizing the calendar, making appointments, enjoying and sharing photos and music, using maps, referencing contacts, adjusting the settings, working with security, checking out voice features, and more.
Goes beyond the basics and escorts you from initial set-up of your Motorola Xoom to fluency using step-by-step, full-color instructions
Touches on useful Motorola Xoom applications and tells you where to get them
Assists you with customizing your Motorola Xoom phone, maximizing its features, and getting comfortable with the operating system
Features numerous color screen shots, helpful advice, and invaluable tips for getting maximum use from your Motorola Xoom phone
If you're eager to get savvy with your Motorola Xoom tablet, then this book needs to be your constant companion!
Introduction.
Chapter One How Do I Get Started with the Motorola Xoom?
Setting Up Your Xoom.
Unlocking the Xoom.
Connecting to Your Computer.
Creating a Google Account.
Using External Controls.
Browsing the Home Screen.
Shortcuts, Apps, and Widgets.
The System Bar and Action Bar.
Swiping, Flicking, Tapping, and Other Touch Techniques.
Rotating, Flipping, and Twisting.
Navigating Menus and Tabs.
Connecting to a Personal or Business Wi-Fi Network.
Enabling Wi-Fi and Getting Within Range.
Inputting Wi-Fi Credentials.
Understanding Network Icons.
Connecting a Bluetooth Device.
Locking Your Motorola Xoom.
Configuring a Screen Lock.
Backing Up Your Xoom.
Related Questions.
Chapter Two How Do I Use the Apps and Features Included with the Motorola Xoom?
Using the Keyboard.
Exploring the Basic Apps.
The Clock and the Calculator.
Accessing the Action Bar for an App.
Using the Browser Effectively.
Using Voice Search.
Using Google to Search with Keywords.
Accessing Facebook, Twitter, and Other Social Networks.
Navigating to the Site.
Signing In.
Creating a Shortcut on the Home Screen.
Getting Directions with Maps.
Using the Maps Interface.
Finding Your Present Location.
Using Your Voice to Find a Location.
Typing to Find a Location.
Using Places and Street View.
Using 3D View.
Incorporating Touch Techniques.
Sharing a Place.
Exploring YouTube.
Using the Contacts App.
Manually Adding a Contact.
Adding a Contact from an Email.
Importing Your Existing Contacts.
Creating a Calendar Entry in Calendar.
Using the Calendar Interface.
Inputting an Entry and Creating a Reminder.
Inviting Guests and Viewing Responses.
Subscribing to or Syncing Calendars.
Reading with Books.
Reading Books.
Shopping for Books.
Related Questions.
Chapter Three How Do I Make the Motorola Xoom Uniquely Mine?
Customizing the Screen.
Adding Widgets and Apps.
Deleting Widgets and Apps.
Repositioning App Shortcuts and Widgets.
Changing the Wallpaper.
Exploring More.
Uninstalling Widgets and Apps.
Organizing Apps into Folders.
Getting Personal Data on the Xoom.
Using the Cloud.
Copying and Pasting.
Emailing.
Related Questions.
Chapter Four How Do I Use and Manage the Wireless Features?
Using Wireless Features.
Enabling Wi-Fi and Configuring Additional Wi-Fi Settings.
Using Public Wi-Fi Networks.
Finding and Connecting to Public Mobile Hotspots.
Using Cellular Features.
Setting Up Data Service.
Turning On and Off Cellular Data Features.
Sharing Your Xoom's Mobile Data Connection.
What Is Tethering, and What Are Hotspots?
Setting Up Tethering.
Setting Up a Wi-Fi Hotspot.
Using Airplane Mode.
Related Questions.
Chapter Five How Do I Get the Most from the Web and Email?
Getting the Most from the Web Browser.
Opening Multiple Web Pages at One Time.
Incognito Browsing.
Creating a Bookmark and Accessing Its Thumbnail.
Finding, Sharing, Locating Downloads, and More.
Exploring the Settings App.
Using Flash.
Getting the Most from Gmail.
Exploring the Gmail Interface.
Managing Attachments.
Adding Third-Party Accounts to the Gmail App.
Setting Up Email.
Configuring Web-Based Email Accounts.
Configuring POP3, IMAP, and Exchange Email Accounts.
Getting the Most from Email.
Separating Inboxes.
Creating Custom Signatures.
Creating Folders (or Labels) and Using Them.
Managing a Contact.
Personalizing Settings.
Related Questions.
Chapter Six How Do I Get the Most from the Android Market?
Getting Familiar with the Market's Interface.
Exploring the Android Apps Section.
Learning More About Any App.
Considering User Comments.
Paying for, Downloading, and Installing an App.
Learning to Use an App.
Getting Help from Inside the App.
Visit the Developer's Web Page.
Search the Web.
Managing Apps.
Checking for and Installing App Updates.
Hiding and Uninstalling Apps.
Exploring Must-Have Apps.
Exploring the Books Section.
Related Questions.
Chapter Seven How Do I Best Obtain, Play, and Manage Music?
Introducing the Music App.
Transferring Music to the Xoom.
Syncing with Windows Media Player.
Using iTunes to Convert WMA Files to MPEGs.
Transfer Recently Converted MP3s to Your Xoom.
Using Third-Party Tools to Manage iTunes and Other Proprietary Media.
Listening to Music.
Using Playback Controls.
Searching for a Specific Song, Artist, or Album.
Creating Playlists.
Creating a Playlist from Playlists View.
Adding a Song to an Existing Playlist.
Playing a Playlist.
Buying Music Online.
Amazon MP3.
Google Music.
Other Options.
Listening to Audiobooks and Other Audibles.
Getting Audiobooks from Audible.
Getting Audiobooks from Barnes & Noble (U.S.)
Related Questions.
Chapter Eight How Do I Best Take, View, Share, and Manage Photos?
Taking and Saving Photos.
Taking a Photo.
Deleting and Viewing the Photo.
Rotating and Cropping a Photo.
Exploring the Settings.
Sharing Photos.
Emailing Photos.
Uploading to Picasa, Twitter, and Facebook.
Using a Photo as a Contact Photo or Wallpaper.
Navigating the Gallery App with Finesse.
Browse by Album.
Browse by Time.
Browse by Location.
Browse by Tags.
Renaming and Organizing Photos.
Renaming Photos.
Using Third-Party Apps.
Related Questions.
Chapter Nine How Do I Best Take, Share, Manage, and Play Video?
Shooting and Saving a Video.
Shooting a Video.
Configuring Video Settings.
Viewing and Deleting a Video.
Sharing Videos.
Uploading Videos to YouTube.
Uploading to YouTube from the Gallery's YouTube Option.
Uploading to YouTube from the Gallery's Gmail Option.
Sending Video to Facebook.
Sharing a Video with CNN.
Getting Flash.
Watching a Video.
Understanding Compatible File Types.
Exploring Third-Party Streaming Services.
Exploring Video Controls.
Video Chatting with Google Talk.
Understanding the Talk Window.
Holding a Video Chat.
Using Movie Studio.
Creating a New Project.
Editing Out Parts of a Video.
Adding a Title.
Adding Effects and Transitions.
Adding Music.
Applying Mode, Ratio, Size, and Quality Settings.
Related Questions.
Chapter Ten How Do I Use the Motorola Xoom to Communicate and Work More Efficiently?
Organizing and Managing Contacts.
Editing Contacts.
Grouping Contacts.
Sorting Contacts by Their Groups.
Sharing Contacts.
Communicating with Contacts.
Texting and Instant Messaging Contacts.
Choosing an Instant Messaging App.
Choosing a Texting App.
Sharing Your Calendar.
Editing Documents, Spreadsheets, and Presentations with Google Docs.
Creating a Shortcut to Google Docs.
Editing with Google Docs.
Sharing Your Google Docs.
Sharing a Presentation or Spreadsheet.
Sharing a Document.
Sharing from a Desktop Computer or Laptop.
Incorporating a File Management App.
Connecting Securely to Corporate Networks.
Configure Your VPN.
Connect to a VPN.
Exploring the Applications Options in Settings.
Exploring the Applications Option.
Exploring the About Tablet Options.
Related Questions.
Index.