Year in Cognitive Neuroscience 2008, Volume 1124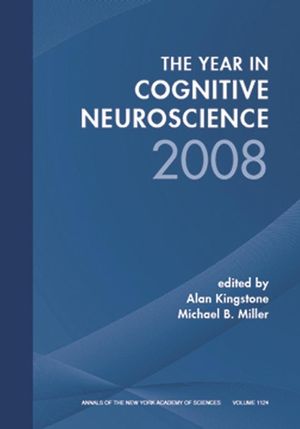 Year in Cognitive Neuroscience 2008, Volume 1124
ISBN: 978-1-573-31726-9
Apr 2008, Wiley-Blackwell
200 pages
Description
Collection of review articles highlighting the top science and recent developments in the field of cognitive neuroscience.

NOTE: Annals volumes are available for sale as individual books or as a journal. For information on institutional journal subscriptions, please visit www.blackwellpublishing.com/nyas.

ACADEMY MEMBERS: Please contact the New York Academy of Sciences directly to place your order (www.nyas.org). Members of the New York Academy of Science receive full-text access to the Annals online and discounts on print volumes. Please visit http://www.nyas.org/MemberCenter/Join.aspx for more information about becoming a member
Preface: Alan Kingstone and Michael B. Miller.
1. The Brain's Default Network: Anatomy, Function, and Relevance to Disease: Randy L. Buckner, Jessica R. Andrews-Hanna, and Daniel L. Schacter.
2. Episodic Simulation of Future Events: Concepts, Data, and Applications: Daniel L. Schacter, Donna Rose Addis, and Randy L. Buckner.
3. Generalization and Differentiation in Semantic Memory: Insights from Semantic Dementia: Matthew A. Lambon Ralph and Karalyn Patterson.
4. Spatial Cognition and the Brain: Neil Burgess.
5. Multisensory-based Approach to the Recovery of Unisensory Deficit: Elisabetta Làdavas.
6. The Adolescent Brain: B.J. Casey, Rebecca M. Jones, and Todd A. Hare.
7. Cognitive Neuroscience of Aging: Cheryl L. Grady.
8. Can Neurological Evidence Help Courts Assess Criminal Responsibility? Lessons from Law and Neuroscience: Eyal Aharoni, Chadd Funk, Walter Sinnott-Armstrong, and Michael Gazzaniga.
9. The Neural Basis of Moral Cognition: Sentiments, Concepts, and Values: Jorge Moll, Ricardo de Oliveira-Souza, and Roland Zanh.
10. Intention, Choice, and the Medial Frontal Cortex: Matthew F.S. Rushworth.
11. Evaluating Faces on Trustworthiness: An Extension of Systems for Recognition of Emotions Signaling Approach/ Avoidance Behaviors: Alexander Todorov.
12. Disorders of Consciousness: Adrian M. Owen.
13. The Neural Correlates of Consciousness: An Update: Giulio Tononi and Cristof Koch