Year in Ecology and Conservation Biology 2008, Volume 1133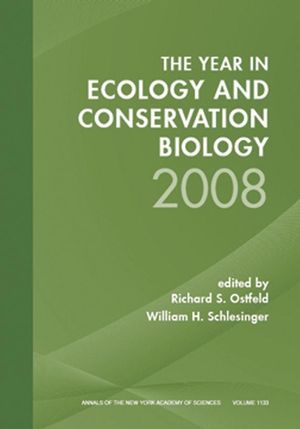 Year in Ecology and Conservation Biology 2008, Volume 1133
ISBN: 978-1-573-31725-2
Jul 2008
452 pages
Description
An important collection of review articles on the top science and developments in the fields of ecology and conservation biology.

NOTE: Annals volumes are available for sale as individual books or as a journal. For information on institutional journal subscriptions, please visit www.blackwellpublishing.com/nyas.

ACADEMY MEMBERS: Please contact the New York Academy of Sciences directly to place your order (www.nyas.org). Members of the New York Academy of Science receive full-text access to the Annals online and discounts on print volumes. Please visit http://www.nyas.org/MemberCenter/Join.aspx for more information about becoming a member
Preface: Richard S. Ostfeld and William H. Schlesinger.
1. Usefulness of Bioclimatic Models for Studying Climate Change and Invasive Species: Jonathan M. Jeschke and David L. Strayer.
2. Ecosystem Services Provided by Birds: Christopher J. Whelan, Daniel G. Wenny, and Robert J. Marquis.
3. Understanding, Managing, and Minimizing Urban Impacts on Surface Water Nitrogen Loading: Emily S. Bernhardt, Lawrence E. Band, Christopher J. Walsh, and Philip E. Berke.
4. Protected Areas in Europe: Principle and Practice: Kevin J. Gaston, Sarah F. Jackson, Arnold Nagy, Lisette Cantú-Salazar, and Mark Johnson.
5. Creating New Landscapes and Ecosystems: The Alberta Oil Sands: E. A. Johnson and K. Miyanishi.
6. Infectious Disease in Cervids of North America: Data, Models, and Management Challenges: Mary M. Conner, Michael R. Ebinger, Julie A. Blanchong, and Paul C. Cross.
7. Biodiversity Conservation in Tropical Agroecosystems: A New Conservation Paradigm: Ivette Perfecto and John Vandermeer.
8. Protected Areas and Climate Change: Lee Hannah.
9. Exchanges across Land-Water-Scape Boundaries in Urban Systems: Strategies for Reducing Nitrate Pollution: M.L. Cadenasso, S.T.A. Pickett, P.M. Groffman, L.E. Band, G.S. Brush, M.F. Galvin, J.M. Grove, G. Hagar, V. Marshall, B.P. McGrath, J.P.M. O'Neil-Dunne, W.P. Stack, and A.R. Troy.
10. Collision Effects of Wind-Power Generators and Other Obstacles on Birds: Allan L. Drewitt and Rowena H. W. Langston.
11. High Latitude Changes in Ice Dynamics and Their Impact on Polar Marine Ecosystems: Mark A. Moline, Nina J. Karnovsky, Zachary Brown, George J. Divoky, Thomas R. Frazer, Charles A. Jacoby, Joseph J. Torres, and William R. Fraser.
12. Ocean Acidification and its Potential Effects on Marine Ecosystems: John M. Guinotte and Victoria J. Fabry.
Index of Contributors