Year in Evolutionary Biology 2008, Volume 1134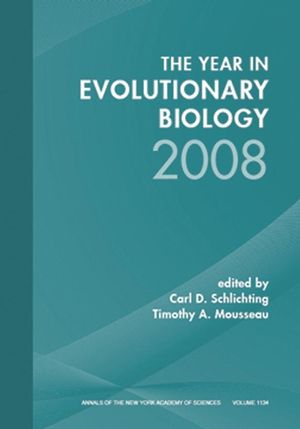 Year in Evolutionary Biology 2008, Volume 1134
ISBN: 978-1-573-31724-5 July 2008 Wiley-Blackwell 452 Pages
Description
This volume features an important collection of review articles highlighting the top science and developments in the field of evolutionary biology.
NOTE: Annals volumes are available for sale as individual books or as a journal. For information on institutional journal subscriptions, please visit www.blackwellpublishing.com/nyas.
ACADEMY MEMBERS: Please contact the New York Academy of Sciences directly to place your order (www.nyas.org). Members of the New York Academy of Science receive full-text access to the Annals online and discounts on print volumes. Please visit http://www.nyas.org/MemberCenter/Join.aspx for more information about becoming a member
Table of contents
Preface:
Carl D. Schlichting and Timothy A. Mousseau.
Part I: Review and Synthesis:.
1. The Origin and Early Evolution of Angiosperms: Douglas E. Soltis, Charles D. Bell, Sangtae Kim, and Pamela S. Soltis.
2. Why Are Sex and Recombination So Common?: Lilach Hadany and Josep M. Comeron.
3. Phenotypic Plasticity, Costs of Phenotypes, and Costs of Plasticity: Toward an Integrative View: Hilary S. Callahan, Heather Maughan, and Ulrich K. Steiner.
4. Theoretical Approaches to the Evolution of Development and Genetic Architecture: Sean H. Rice.
5. The Interplay between Ecological Communities and Evolution: Review of Feedbacks from Microevolutionary to Macroevolutionary Scales: Jon R. Haloin and Sharon Y. Strauss.
6. Viviparity-driven Conflict: More to Speciation than Meets the Fly: Jeanne A. Zeh and David W. Zeh.
Part II: Perspectives:.
7. Maternal Effects as Generators of Evolutionary Change: A Reassessment: Alexander V. Badyaev.
8. Near Neutrality: Leading Edge of the Neutral Theory of Molecular Evolution: Austin L. Hughes.
9. Interactions between Interactions: Predator–Prey, Parasite–Host, and Mutualistic Interactions: Anders Pape Møller.
10. Hidden Reaction Norms, Cryptic Genetic Variation, and Evolvability: Carl D. Schlichting.
Index of Contributors