Yoga - Philosophy for Everyone: Bending Mind and Body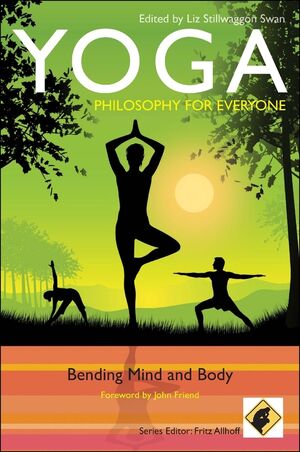 Yoga - Philosophy for Everyone: Bending Mind and Body
ISBN: 978-0-470-65880-2 November 2011 Wiley-Blackwell 248 Pages
Description
Stimulates thoughts and expands awareness of the philosophical dimensions of yoga in its many forms and practices
Yoga — Philosophy for Everyone presents a wide array of perspectives by people whose lives have been touched by yoga. Addressing myriad aspects of yoga's divergent paths, topics include body image for men and women; the religious and spiritual aspects of yoga; and issues relating to ethics, personal growth, and the teaching of yoga. Written by philosophers and non-philosophers alike, with contributions from professional yoga instructors, lifelong practitioners, and first-timers, Yoga — Philosophy for Everyone offers a wealth of material for both enjoyment and deep reflection.
Foreword ix
John Friend
Editor's Introduction xiv
Liz Stillwaggon Swan
Acknowledgments xxvi
PART 1 COMING INTO THE SPACE: WHAT IS YOGA? 1
1 How Yoga Won the West 3
Jennifer Munyer
2 Will I Find My Guru in India? 15
Kieran McManus
3 The Seeker: How Yoga is Meeting Changing Western Spiritual Needs 24
David Robles
4 Men, Sports, and Yoga 36
Barbara Purcell and Andrew Shaffer
5 Standing on Your Head, Seeing Things Right Side Up 47
Steve Jacobson
PART 2 THE ASANAS: YOGA AND THE BODY 59
6 Help! My Philosophy Teacher Made Me Touch My Toes! 61
Ken Burak
7 Man a Machine, Man a Yogi: Why Yoga's Critics will Come Around 73
J. Neil Otte
8 Yoga for Women? The Problem of Beautiful Bodies 84
Luna Dolezal
9 The Feeling of Beauty: A Yoga Project 94
Nicole Dunas
10 Picturing Yoga: Yoga Journal and the Perfect Form 106
Debra Merskin
PART 3 PRANA: YOGA'S VITAL ENERGY 117
11 My Guidance Counselor Always Said I'd be a Great Yoga Student 119
Eric Swan
12 Balance in Yoga and Aristotle 129
Leigh Duffy
13 Healing the Western Mind through Yoga 139
Abby Thompson
14 The Path to Happiness Begins with a Journey Inside 149
Jim Berti
PART 4 YAMAS AND NIYAMAS: ETHICS AND YOGA 159
15 Get Out of My Way! I'm Late for Yoga! 161
Jeff Logan
16 Yoga Off the Mat 166
Julinna Oxley
17 Becoming-Frog: Yoga as Environmentalism 178
Megan M. Burke
18 Yoga and Ethics: The Importance of Practice 187
Paul Ulhas MacNeill
19 Why are You Standing on my Yoga Mat?! 200
Heather Salazar
Notes on Contributors 212 ?
"This fascinating collection of essays reveals that although yoga means something different to each person, it is a powerful a movement today as when it first began." (Yoga Magazine, 1 February 2012)