Yorkshire Terrier: Your Happy Healthy PetTM, 2nd Edition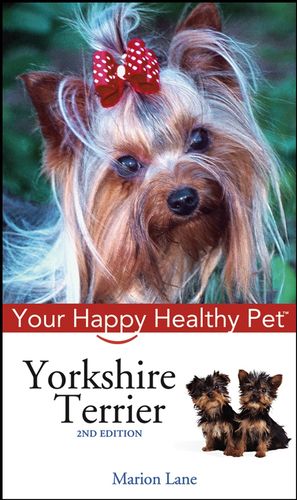 Yorkshire Terrier: Your Happy Healthy PetTM, 2nd Edition
ISBN: 978-0-764-58385-8
Apr 2005
144 pages
Product not available for purchase
Description
Your Happy Healthy Pet

The authoritative information and advice you need, illustrated throughout with full-color photographs--now revised and redesigned to be even more reader-friendly!

A little dog with a big personality, the Yorkshire Terrier is among today's most popular canine companions, renowned for his energy, intelligence, and spirit. This updated guide gives you all the information you need to understand, select, train, and care for a Yorkie, including:
* An in-depth look at the Yorkie temperament
* The fascinating history of the breed
* Tips for selecting a Yorkie puppy or adult dog
* Pointers on feeding, grooming, and health
* Savvy advice on housebreaking and basic training
* Bonus chapters available on companion web site
Part I:
The World of the Yorkshire Terrier.
Chapter 1: What Is a Yorkshire Terrier?
The Yorkie Standard.
Companion or Show Quality?
Chapter 2 : The Yorkshire Terrier's Ancestry.
The Origin of Breeds.
The Terrier Factor.
Made in England.
The Yorkie in America.
Yorkies, You, and Me.
Chapter 3: Why Choose a Yorkshire Terrier?
What Makes a Yorkie Tick?.
Yorkie Character.
Chapter 4: Choosing Your Yorkshire Terrier.
Where to Get Puppies.
Finding a Responsible Breeder.
Picking a Puppy.
Part II: Caring for Your Yorkshire Terrier.
Chapter 5: Bringing Your Yorkshire Terrier Home.
Safety Items.
Safe Places.
Crate and Bed.
Puppy Essentials.
Puppy-Proofing Your Home.
Chews and Toys.
Grooming and Medical Supplies.
Quality Veterinary Services.
Time and Money.
Chapter 6: Feeding Your Yorkshire Terrier.
Choices, Choices.
Reading Dog Food Labels.
How Much and How Often.
Feeding Do's and Don'ts.
Chapter 7: Grooming Your Yorkshire Terrier.
Begin at . . . the Beginning.
Setting Up a Routine.
How to Brush and Comb Your Yorkie.
How to Trim Your Yorkie.
How to Bathe Your Yorkie.
How to Clip Your Yorkie's Nails.
Fleas and Ticks.
Making Your Environment Flea Free.
Chapter 8: Keeping Your Yorkshire Terrier Healthy.
Preventive Veterinary Care.
Know Your Yorkie.
Home Checkups.
Health Problems: Signs and Symptoms.
Internal Parasites.
First Aid.
How to Make a Canine First-Aid Kit.
Senior Care.
When to Call the Veterinarian.
Part III: Enjoying Your Yorkie.
Chapter 9: Training Your Yorkie.
Understanding Builds the Bond.
Practical Commands for Family Pets.
Training for Attention.
Teaching Cooperation.
Chapter 10: Housetraining Your Yorkie.
Your Housetraining Shopping List.
The First Day.
Confine Your Pup.
Watch Your Pup.
Accidents Happen.
Scheduling Basics.
Appendix: Learning More About Your Yorkie.
Some Good Books.
Magazines and Newsletters.
Health and Safety Resources.
Out-and-About Resources.
Resources on the Web.
Index.