You're Retired Now What?: Money Skills for a Comfortable Retirement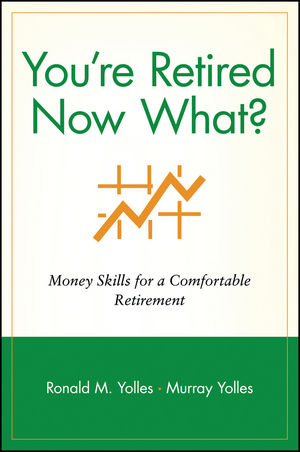 You're Retired Now What?: Money Skills for a Comfortable Retirement
ISBN: 978-0-471-24836-1 September 1998 288 Pages
Description
Plenty of books tell you how to plan for retirement. This book tells you how to manage it once you are there.
Retirement: A time in your life when you should be kicking back and relaxing on a sandy beach or a golf course, without a care in the world. Right? Well, these days it's a bit more complicated than that. With Social Security and Medicare hanging in the balance, questions and uncertainties abound: Will you have enough money? Will you need a part-time job? Do you have adequate health insurance? Here is the road map you need for a comfortable, stress-free retirement—complete with sandy beaches, if that's your preference. Ron and Murray Yolles, a father-and-son team who have advised retirees on money matters for fifty years, provide a solid, down-to-earth plan for a successful retirement, covering everything from the best investment strategies to maximizing retirement plans and IRAs.
"Will your money last? This book helps make sure it does for the millions of Americans entering retirement, answering this key question and many more in an easy-to-read, friendly way." —Jean-Marie Eveillard, President, SoGen Funds.
"You're Retired, Now What? is a great read to help clear one's mind of all the conflicting financial advice that exists today." —David Herro, CFA, Partner, Director of International Equities The Oakmark International Funds.
Table of contents
Foreword by Robert J. Sanborn xi
Preface xiii
Acknowledgements xvii
Introduction xix
Part One Your Retirement Mind-Set
Chapter One Cost of Living and Other Financial Issues 3
Estimating Your Retirement Cost of Living 4
Stick with a Long-Term Plan 11
Chapter Two Cash Flow and Nonportfolio Sources of Income 13
Consider Total Return 15
When to Take Your Social Security Income 16
Part-Time Work and Other Sources 19
Mortgaging Your Property for Investment Funds 19
Chapter Three Maximizing Cash Flow 24
Be Like an Egg Farmer or a Landlord 25
Your Capital Base: The Primary Source of Income-Making it Last during Retirement 26
Three Stages of Retirement 29
Part Two The Best Investment Strategy for your Retirement
Chapter Four Identifying your Money Personality 39
Lifeboat Drills 43
Rearview Mirror Investing 44
Your Risk Profile 47
Conclusion 59
Chapter Five Investing During Retirement 60
Invest Investing Can Be Hazardous to Your Wealth 64
The Story of Bill and Libby 67
Diversify Your Portfolio for Stability 68
Retirement Investing Case Studies 70
Chapter Six Developing, Implementing, and Maintaining a Sensible Retirement Portfolio Strategy 77
Dividend Yield versus Capital Appreciation 78
Diversity with Funds 83
Determine Your Optimal Portfolio 85
Find Your Risk Tolerance 90
Value funds and GARP Funds 95
Model Portfolios 96
Tax-Free Municipal Bonds versus Stock Funds 102
Conclusion 103
Chapter Seven How to Select and Assemble a Portfolio of the Best No-Load Mutual Funds 105
Diversification and Other Factors 106
Some All-Star Funds 115
The Rebalancing and Portfolio Review and Monitoring Process 124
Lessons from Investment History 127
Common Investment Mistakes to Avoid 129
The Tortoise Wins the Retirement Race 131
Part Three Apportioning and Insuring Your Nest Egg
Chapter Eight Withdrawal Strategies Using IRAS, Pensions, Rollovers, and Social Security 135
Section I - Withdrawal Planning 136
Section II – Withdrawals from Qualified Retirement Accounts 144
Section III – Social Security Distributions 157
Chapter Nine Insuring Your Investment Portfolio 164
Health Insurance 165
New Medical Savings Account 166
Medicare, Medicaid, and Medigap Coverage 167
Long-Term care Insurance 172
Life Insurance 176
Viatical Settlements of Life Insurance Policies 191
Personal Umbrella Liability Insurance 192
Protection Beyond Insurance 193
Part Four Protecting Your Family's Financial Well-Being
Chapter Ten Estate Planning 199
Selecting an Attorney 203
Noncitizen Issues 206
The Do-It-Yourselfer 208
Bequests 213
Probate 214
The Bypass (Credit Shelter) Trust 215
The Trustee 219
Life Insurance Trusts 223
Partnerships and Business Interests 224
Deathbed Planning 229
Chapter Eleven Foul-Ups and Fraud: The Laws that Protect The Public 235
Foul-Ups 236
Fraud 239
Government Regulation 243
Chapter Twelve Investment Advisors 253
Conclusion 258
Index 261