You Can Hear Me Now: How Microloans and Cell Phones are Connecting the World's Poor To the Global Economy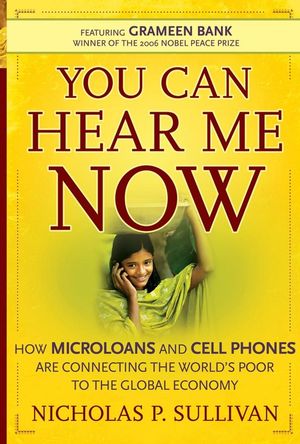 You Can Hear Me Now: How Microloans and Cell Phones are Connecting the World's Poor To the Global Economy
ISBN: 978-0-787-99463-1 March 2007 Jossey-Bass 272 Pages
Download Product Flyer
Download Product Flyer
Download Product Flyer is to download PDF in new tab. This is a dummy description. Download Product Flyer is to download PDF in new tab. This is a dummy description. Download Product Flyer is to download PDF in new tab. This is a dummy description. Download Product Flyer is to download PDF in new tab. This is a dummy description.
Description
Bangladeshi villagers sharing cell phones helped build what is now a thriving company with more than $200 million in annual profits. But what is the lesson for the rest of the world? This is a question author Nicholas P. Sullivan addresses in his tale of a new kind of entrepreneur, Iqbal Quadir, the visionary and catalyst behind the creation of GrameenPhone in Bangladesh.
GrameenPhone—a partnership between Norway's Telenor and Grameen Bank, co-winner of the 2006 Nobel Peace Prize—defines a new approach to building business opportunities in the developing world. You Can Hear Me Now offers a compelling account of what Sullivan calls the "external combustion engine"—a combination of forces that is sparking economic growth and lifting people out of poverty in countries long dominated by aid-dependent governments. The "engine" comprises three forces: information technology, imported by native entrepreneurs trained in the West, backed by foreign investors.
Table of contents
Preface vii
The Author xv
Introduction: The Three Forces of xvii
External Combustion
Part I: The GrameenPhone Story
1. Connectivity Is Productivity 3
2. Dish-Wallahs of Delhi (and Other 17 Early Models)
3. Cell Phone as Cow: A New Paradigm in Search of Investors 35
4. On the Money Trail in Scandinavia 51
5. Building a Company 71
6. Building a Network 87
Part II: Transformation Through Technology
7. Wildfire at the Bottom of the Pyramid 107
8. Cell Phone as Wallet 125
9. Wealth Creation and Rural Income Opportunities 145
10. Beyond Phones: In Search of a New "Cow" 161
11. Eyeing the Dhaka Stock Exchange 181
Epilogue 199
Notes 203
Resources 215
Index 217
New To This Edition
Shows how private investment is reinvigorating the economies of aid-dependent countries, which have long been stifled by corrupt and autocratic governments
Describes an inclusive capitalism that engages people at the 'bottom of the pyramid', focusing on fast-growing companies like Bangladesh's GrameenPhone
Informs followers of globalization and development on how this new means of economic development can address unmet human needs on a macro scale
Reviews
Until recently, the outlook for many of the poorest people in Bangladesh was dismal. Despite previous long-term aid from the international community to improve the country's infrastructure and economy, sustainable development was hampered by corruption and governmental inefficiency. This book tells the story of Western-trained entrepreneur Iqbal Quadir, the driving force behind the creation of GrameenPhone, the largest Bangladeshi GSM (Global System for Mobile) cell-phone operation. Quadir had the innovative idea of using local Western-trained entrepreneurs to help villagers attain micro-loans funded by foreign investors (and generated by Nobel Peace Prize winner Muhammad Yanus) and then showing villagers how to operate cell-phone leasing businesses. Sullivan refers to this successful business model as the "external combustion engine" because of its impressive multiplier effects on economic growth. Applications of this model in other poverty-stricken areas worldwide have repeatedly yielded similar results. This book offers valuable insights about the use of cell phones and technology-based investments to generate wealth and demonstrates that entrepreneurship may be more fruitful than aid. This valuable work can be effectively integrated into public administration, global business, and human resource academic courses.
—Caroline Geck, Kean Univ. Lib., Union, NJ (
Library Journal
, February 2007) 
"…describes an inclusive capitalism that engages and enables many of the three billion people living on $1 a day" (Credit Control, June 2007)