You Can Pass the CPA Exam: Get Motivated!, 2nd Edition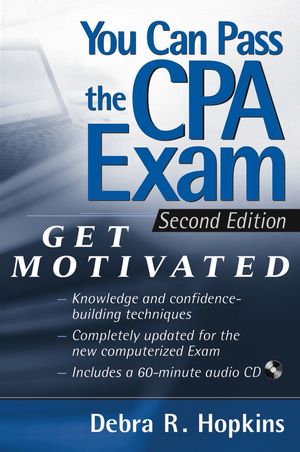 You Can Pass the CPA Exam: Get Motivated!, 2nd Edition
ISBN: 978-0-471-69662-9
Jan 2005
240 pages
Description
Each year, over 120,000 CPA exam candidates continue to attempt to pass the CPA exam. It is a stressful event in the life of an accountant, and the stress goes beyond just the knowledge and the exam itself because of the high percentage (85%), of first time students who fail. This book discusses what really happens at the CPA exam and how the candidate can better control the outcome. It provides the expert guidance on the techniques needed to pass today's CPA exam.
1. Believe That You Can Pass!
2. Content and Overall Exam Format.
3. Scheduling and Applying for the Exam.
4. A Time and Place for Everything.
5. Assessing Your Strengths and Weaknesses.
6. The Multiple-Choice Component.
7. The Communications Component—Formerly Called Essays.
8. The Simulation Component: No Fear, It's Here.
9. The Research Component: How Many Hits?
10. CPA Exam Grading.
11. Developing Your Personal Study Plan.
12. Study Strategies to Improve Your Memory.
13. Coping with Family, Friends, and Coworkers.
14. Revising Your Personal Study Plan.
15. How Will I Ever Pass? Practice Makes Perfect!
16. The Art of Auditing and Attestation.
17. Financial Accounting and Reporting: Tough It Out.
18. Regulation: The Rule-Oriented Section.
19. Business Environment and Concepts: It's New, It's Different.
20. Surviving the Prometric Experience.
21. Nerves of Steel.
22. Time Management.
23. It's Show Time.
24. The Waiting Game.
25. Regrouping after an Unsuccessful Attempt.
26. Congratulations—You Are a CPA!
Completely updated for the new computerized exam.
Written by an experienced teacher of the CPA exam candidates who speaks on the subject around the country.
Includes exam taking tips.
Provides problem solving techniques for all types of questions.
Discusses how to handle exam stress.
Includes audio CD that talks to the student about the exam experience.