You Paid How Much For That?!: How to Win at Money Without Losing at Love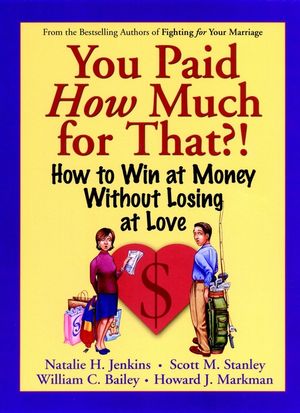 You Paid How Much For That?!: How to Win at Money Without Losing at Love
ISBN: 978-0-787-95888-6 March 2002 Jossey-Bass 416 Pages
Description
Money is the number one problem area for couples because money isn't simply about dollars and cents. If you scratch the surface of almost any money issue, you'll find a relationship issue complicating if not actually driving the problem. That's why You Paid How Much For That? not only sound reveals principles of money management but also provides you with practical tools to uncover and understand the deeper, often hidden meanings of money and conquer the problems it raises in your relationship.
You Paid How Much For That? can help you to
* Learn how a Saver and Spender can live together-happily!
* Gain a healthy respect for what money can-and can't-do for you.
* Understand how your upbringing, culture, and gender influence how you and your partner approach relationships and money differently.
* Find out how to solve problems together in ways that promote teamwork.
* Discover practical ways to get what you both want most.
* Capture a vision for a prosperous and loving future together.
Acknowledgments ix
Introduction 1
PART ONE: THE INVISIBLE FORCES
1 Marriage, Money, and Real Life 11
2 The Master Key 33
3 An Introduction to Invisible Forces 48
4 The Full Monty: Exposing Hidden Issues 58
5 Great (and Not So Great) Expectations 72
6 Where Expectations Come from 90
7 Just How Opposite Is the Opposite Sex? 108
Going Deep 125
PART TWO: NOW THAT WE UNDERSTAND, WHAT DO WE DO?
8 Talking Things Out 139
9 Real Solutions for Real Problems 156
10 The Golden Ground Rules 174
11 Accounting for Love 187
PART THREE: SHOW US THE MONEY
Introduction to Money Management 211
12 Getting It Together 217
13 What Do You Have? 226
14 Smart Borrowing, Dumb Debt 240
15 Insurance: How to Protect What You've Got 257
16 Taxes: Keeping More of What You Make 277
17 A Penny Saved Is . . . Not Much! How to Control Spending 288
18 Investing: How to Get More 305
PART FOUR: FINDING YOUR TARGET
19 The Heart of Commitment 327
20 Turning Reality into Dreams 343
RESOURCES
Choosing a Financial Planner 367
Our Ten Favorite Books on Money Management and Investment 375
Resources and Training 377
Research and References 379
About the Authors 387
Index 389