Young People and Alcohol: Impact, Policy, Prevention, Treatment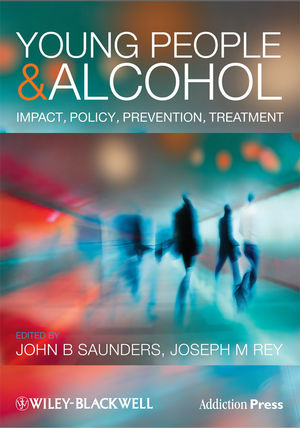 Young People and Alcohol: Impact, Policy, Prevention, Treatment
ISBN: 978-1-444-33598-9 June 2011 Wiley-Blackwell 384 Pages
Description
Young People and Alcohol is a practical and comprehensive reference for professionals and researchers in the field of alcohol misuse who work with people aged 12 to 25 years. The book provides readers from a range of professional backgrounds with authoritative and up to date information about the effects of alcohol use in the young and, particularly, its management, with an emphasis on interventions whose effectiveness is supported by evidence.

Written by an internationally renowned team of contributors, chapters span five key sections: The Phenomenon and Impact of Youth Drinking; Neurobiology; Prevention and Early Intervention; Assessment and Diagnosis; and Treatment.

FEATURES
Focus is on treatment, relating the science to everyday clinical practice.
Evidence-based
List of further resources
Tables and flowcharts
Glossary of key terms and abbreviations
Contributors vii
Preface xi
Glossary and abbreviations xiv
Joseph M. Rey
Part I: The phenomenon and impact of youth drinking.
1 The phenomenon of youth drinking 3
Fiona Measham and Jeanette Østergaard
2 Early onset drinking 18
Shauncie M. Skidmore, Rose A. Juhasz, and Robert A. Zucker
3 The short- and long-term consequences of adolescent alcohol use 32
Joseph M. Boden and David M. Fergusson
Part II: Neurobiology.
4 The biology of alcohol and alcohol misuse 47
John B. Saunders
5 Alcohol and the developing brain 66
Linda Patia Spear
6 Genetic influences on alcohol use and alcohol use disorders 83
Michael T. Lynskey and Arpana Agrawal
Part III: Prevention and early intervention
7 Alcohol policy and the prevention of harm in young people 105
John B. Saunders, Peter Anderson, and Joseph M. Rey
8 Community-based approaches to prevention: reducing high-risk drinking and alcohol-related damage among youth and young adults 122
Norman Giesbrecht and Linda Bosma
9 Brief alcohol intervention in young people 153
Eileen F. S. Kaner and Bridgette M. Bewick
10 Preventing and responding to alcohol misuse in specific contexts: schools, colleges, the military 170
Joseph M. Rey and Robert F. Saltz
Part IV: Assessment and diagnosis.
11 The clinical interview of young people about alcohol use 197
Yvonne Bonomo
12 Detection, evaluation, and diagnosis of alcohol use disorders 212
Maree Teesson, Sonja Memedovic, Louise Mewton, Tim Slade, and Andrew Baillie
Part V: Treatment.
13 Recognition and acute management of severe alcohol intoxication and withdrawal in youth 231
Federico E. Vaca and Rockan Sayegh
14 Working with families of adolescents who misuse alcohol 247
Lorna Templeton
15 Psychosocial treatment for adolescents with alcohol use disorders 258
Deborah Deas and Andrew Clark
16 Pharmacological approaches to the treatment of alcohol dependence in the young 271
Bankole A. Johnson
17 Alcoholics Anonymous and young people 308
John F. Kelly and Julie D. Yeterian
18 Epidemiology and management of alcohol misuse comorbid with other disorders 327
Katherine M. Keyes and Deborah S. Hasin
Index 347