Young Peoples Perspectives on the Rights of the Child: Implications for Theory, Research and Practice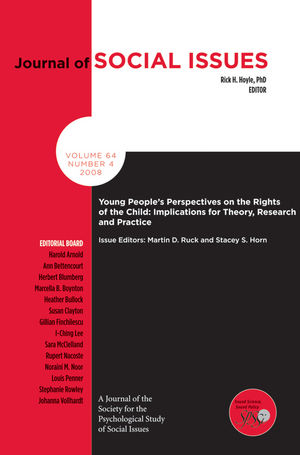 Young Peoples Perspectives on the Rights of the Child: Implications for Theory, Research and Practice
ISBN: 978-1-405-19434-1
Dec 2008, Wiley-Blackwell
200 pages
Description
This special issue highlights the complexity, breadth, and range of topics pertaining to children's rights as a social issue. The contributions included in this issue provide current theory and empirical research addressing the ways in which children and youth conceptualize their need for rights in contexts such as the family, school, community, and greater society. Additionally, the contributions address the implications this research has for policy and practice centered on the rights of children and youth in varying social contexts. As such this issue will be of interest to all those who advocate for young people in a variety of setting, as well as those whose work pertains to bettering the lives children and youth more generally.

Focuses on children's and adolescents' conceptions of their rights and responsibilities.

Articles utilize the best developmental science and theoretical frameworks to address the tensions and complexities of children's rights both locally and globally
INTRODUCTION.
Charting the Landscape of Children's Rights Martin D. Ruck and Stacey S. Horn.
THEORETICAL, CONCEPTUAL, AND METHODOLOGICAL CONSIDERATIONS.
The Rights of Children, the Rights of Nations: Developmental Theory and the Politics of Children's Rights Colette Daiute.
Regardless of Frontiers: Adolescents and the Human Right to Information Roger J. R. Levesque.
Studying Children's Perspectives on Self-Determination and Nurturance Rights: Issues and Challenges Michele Peterson-Badali and Martin D. Ruck.
YOUNG PEOPLE'S VIEWS OF PROTECTION AND PARTICIPATION IN EVERYDAY CONTEXTS.
Adolescents' Perceptions of Rights as Reflected in Their Views of Citizenship Lonnie R. Sherrod.
Schooling, Sexuality, and Rights: An Investigation of Heterosexual Students' Social Cognition Regarding Sexual Orientation and the Rights of Gay and Lesbian Peers in School Stacey S. Horn, Laura A. Szalacha, and Karen Drill.
It's My Body and None of Your Business: Developmental Changes in Adolescents' Perceptions of Rights Concerning Health Constance A. Flanagan, Michael Stout, and Leslie S. Gallay.
CULTURAL AND CROSS-CULTURAL PERSPECTIVES ON CHILDREN'S RIGHTS.
Children's Nurturance and Self-Determination Rights: A Cross-Cultural Perspective Isabelle D. Cherney and Yee L. Shing.
How Adolescents in 27 Countries Understand, Support, and Practice Human Rights Judith Torney-Purta, Britt Wilkenfeld, and Carolyn Barber.
Adolescents' Approach toward Children's Rights: Comparison among Christian, Jewish, and Muslim Children in Jerusalem Mona Khoury-Kassabri and Asher Ben-Arieh.
COMMENTARY.
Beyond Balancing: Toward an Integrated Approach to Children's Rights Gary B. Melton.
2007 KURT LEWIN AWARD ADDRESS.
Introduction to Kay Deaux's Lewin Award Address Brenda N. Major.
To Be an American: Immigration, Hyphenation, and Incorporation Kay Deaux


Focuses on children's and adolescents' conceptions of their rights and responsibilities.

Articles utilize the best developmental science and theoretical frameworks to address the tensions and complexities of children's rights both locally and globally