Youth Civic Development: Work at the Cutting Edge: New Directions for Child and Adolescent Development, Number 134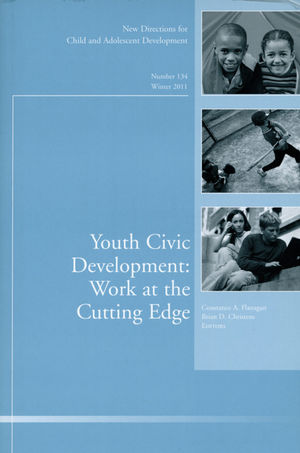 Youth Civic Development: Work at the Cutting Edge: New Directions for Child and Adolescent Development, Number 134
ISBN: 978-1-118-28803-0 December 2011 Jossey-Bass 112 Pages
Description
Take a cutting edge look at the civic engagement of young people. Increasingly recognized as an important feature of democratic functioning in communities, it has also become clear that the civic domain is indispensable as a context for understanding human development processes. This volume proposes the following central theses in relation to youth civic development:
It is rooted in the realities of young people's everyday lives.
It is collectively constructed.
It raises questions about the principles, values, and relationships that bind people together in societies.
It raises questions about power and justice.
Youth civic development pushes the field to focus on the social issues with which younger generations are grappling and the identities they are constructing—issues that also are shaped by structural inequalities and by the collective actions of youth. The volume builds on themes of agency and assets from the field of positive youth development and points to ways that the critical analysis and engagement of young people in their society can contribute to social change.
This is the 134th volume in this series. Its mission is to provide scientific and scholarly presentations on cutting edge issues and concepts in child and adolescent development. Each volume focuses on a specific new direction or research topic and is edited by experts on that topic.
1. Youth Civic Development: Historical Context and Emerging Issues 1
Constance A. Flanagan, Brian D. Christens

The authors provide a brief history of youth civic development as an area of study and, through a summary of the contributions of the chapters in this volume, discuss emerging issues.
2. The Developmental Roots of Social Responsibility in Childhood and Adolescence 11
Laura Wray-Lake, Amy K. Syvertsen
The authors posit that the development of social responsibility begins in childhood and develops in adolescence as a value orientation that links one's own fate with those of fellow human beings.
3. Taking Stock of Youth Organizing: An Interdisciplinary Perspective 27
Brian D. Christens, Ben Kirshner
Integrating literature from multiple disciplines, the authors provide a multilevel framework for understanding a promising model for civic development and social change—youth organizing.
4. Critical Consciousness: Current Status and Future Directions 43
Roderick J. Watts, Matthew A. Diemer, Adam M. Voight
Drawing on the work of the Brazilian educator Paulo Freire, the authors explicate the role of critical consciousness in youth civic development.
5. "Unapologetic and Unafraid": Immigrant Youth Come Out From the Shadows 59
Hinda Seif
The author explores the changing political consciousness and action of Latino/a youth as they organize and publicly advocate for equal rights and an end to discrimination against members of their ethnic group.
6. Early Educational Foundations for the Development of Civic Responsibility: An African Experience 77
Robert Serpell, Paul Mumba, Tamara Chansa-Kabali
The authors describe an innovative peer education curriculum in rural Zambia that not only promotes health, but also fosters cooperation, gender equality, and social responsibility.
7. Youth Civic Development: Theorizing a Domain With Evidence From Different Cultural Contexts 95
Constance A. Flanagan, M. Loreto Martínez, Patricio Cumsille, Tsakani Ngomane
The authors point toward the primacy of collective action, groupways, and mediating institutions as aspects of the civic domain germane to youth development across cultures.
INDEX 111