Youth Participatory Evaluation: Strategies for Engaging Young People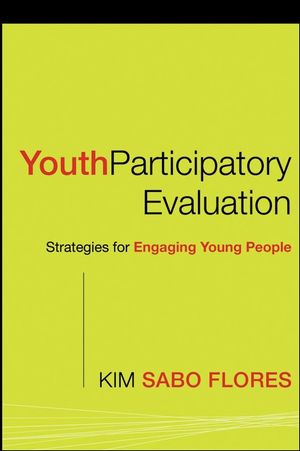 Youth Participatory Evaluation: Strategies for Engaging Young People
ISBN: 978-0-787-98392-5
Nov 2007
208 pages
Description
Youth Participatory Evaluation: Strategies for Engaging Young People is a groundbreaking book that provides step-by-step, playful, and accessible activities that have proven effective and can be used by evaluators, educators, youth workers, researchers, funders, and children's and human rights advocates in their efforts to more effectively engage young people.
Buy Both and Save 25%!
Original Price:$79.00
Purchased together:$59.25
save $19.75
Cannot be combined with any other offers.
Buy Both and Save 25%!
Original Price:$110.00
Purchased together:$82.50
save $27.50
Cannot be combined with any other offers.
Buy Both and Save 25%!
Original Price:$115.00
Purchased together:$86.25
save $28.75
Cannot be combined with any other offers.
Preface x
The Author xiii
Foreword by Naomi Ortiz xiv
PART ONE: FOUNDATIONS OF YOUTH PARTICIPATORY EVALUATION
CHAPTER ONE: AN INTRODUCTION TO YOUTH PARTICIPATORY EVALUATION 3
What Is Youth Participatory Evaluation? 6
The Benefits of Youth Participatory Evaluation 9
CHAPTER TWO: DEVELOPMENT, PLAY, AND PERFORMANCE 19
Development and Play 24
Transformation of Totalities and Development 26
PART TWO: DESIGNING AND CONDUCTING YOUTH PARTICIPATORY EVALUATION PROJECTS
CHAPTER THREE: STARTING YOUR OWN YPE PROJECT 35
Do Youth Really Want to Participate in Evaluation? 36
Which Youth Should Participate? 37
How Many Youth Should Be Involved? 38
Should Youth Be Compensated for Their Participation? 38
How Old Does Someone Have to Be to Participate? 39
What Is the Value of Engaging Youth of Different Ages and Capacities? 40
Can Young People Really Conduct Effective and Useful Evaluations That We Can Trust? 40
Who Should Facilitate the YPE Process? 41
What Happens When a YPE Project Is Conducted in a Program That Is Not Participatory? 41
How Do We Engage and Prepare Additional Stakeholders in the Process, Particularly Those in Positions of Power? 44
CHAPTER FOUR: DEVELOPING THE ENSEMBLE YPE TEAM 45
Getting Started 46
Moving from Adult Facilitator to Performance Director 47
Discovering All That the YPE Team Members Have to Offer 49
Performing the Ensemble 55
Creating the Environment 60
Monitoring the Ensemble 66
Summary 72
CHAPTER FIVE: DEVELOPING A YPE PLAN 73
Articulating How Your Program Operates 76
Formulating Evaluation Questions 86
CHAPTER SIX: TRAINING YOUNG PEOPLE AS INTERVIEWERS 90
CHAPTER SEVEN: TRAINING YOUNG PEOPLE AS CREATIVE FOCUS GROUP FACILITATORS 102
Helping Young People Conduct Focus Groups 104
Creative Group and Focus Group Activities 110
CHAPTER EIGHT: WORKING WITH YOUNG PEOPLE TO DEVELOP SURVEYS 117
Hints for Creating and Administering Surveys 119
Creative Approaches to Surveying 125
CHAPTER NINE: USING PERFORMANCE AS A DATA COLLECTION STRATEGY 130
CHAPTER TEN: USING JOURNALING IN EVALUATION 140
CHAPTER ELEVEN: APPROACHING DATA ANALYSIS AND REPORT WRITING CREATIVELY 146
Creative Approaches to Data Analysis 147
Creative Strategies for Presenting Data 155
CHAPTER TWELVE: ENCOURAGEMENTS 160
Five Tips for Maintaining Your Performatory Posture 162
Concluding Thought 164
Appendix A: Tips for the Interviewer 165
Tips for the Note Taker 167
Appendix B: Tips for Conducting Focus Groups 168
Tips for the Facilitator 169
Tips for the Note Taker 170
Appendix C: How to Determine the Appropriate Sample Size 171
References 173
Index 176
""… serves as a good resource for practitioners looking to engage youth in both evaluation and research."" (Journal of Multidisciplinary Evaluation, March 2008)
* A ""how to"" guide to participatory research and evaluation, for those learning how to do Youth Participatory Evaluation.
* Backed by substantial theory and experience, it provides a fundamental component of professional preparation and leading edge practice.
* Students will learn to lead a youth contingent to perform rigorous research and evaluation that will stand up to peer review and critique.
* Combines participatory evaluation and participatory (action) research for educators, the only book to do so.