Youth Success and Adaptation in Times of Globalization and Economic Change: New Directions for Youth Development, Number 135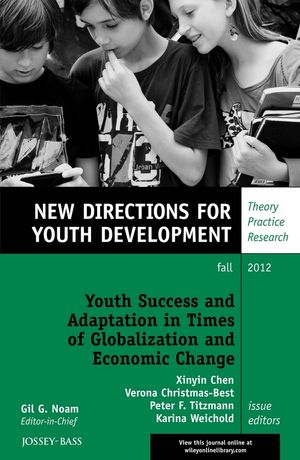 Youth Success and Adaptation in Times of Globalization and Economic Change: New Directions for Youth Development, Number 135
ISBN: 978-1-118-52050-5
Nov 2012, Jossey-Bass
144 pages
Description
Today's youth is confronted not only with the developmental tasks of adolescence, but also with substantial social and economic changes on the macro level originating from globalization and economic volatility. Presenting research on the implications of social and economic changes for today's youth, this volume covers important topics:
Adolescents' future perspectives
The competencies they need to prosper in specific cultures
Changes related to family and school
Gender differences in economic roles within changing societies
The effects of technological progress on their lives
The way in which they cope with biographical transitions in flexible markets
Issues of health and resilience.
The articles provide valuable suggestions about what is being done and can be done with regard to individuals or particular groups of youth, especially concerning the application of research findings to interventions.
This is the 135th volume of New Directions for Youth Development, the Jossey-Bass quarterly report series dedicated to bringing together everyone concerned with helping young people, including scholars, practitioners, and people from different disciplines and professions.
Issue Editors' Notes: Youth Success and Adaptation in Times of Globalization and Economic Change 1
Xinyin Chen, Verona Christmas-Best, Peter F. Titzmann, Karina Weichold
Executive Summary 11
1. Changes in the economy, the labor market, and expectations for the future: What might Europe and the United States look like in twenty-five years? 17
Sandra Buchholz, Hans-Peter Blossfeld
Employment chances for young people have worsened in recent decades, with less educated individuals facing the greatest risks and uncertainty. The authors consider social trends and see a brighter future for youth.
2. Changing contexts of youth development: An overview of recent social trends and a psychological model 27
Martin J. Tomasik, Maria K. Pavlova, Clemens M. Lechner, Anja Blumenthal, Astrid Körner
The authors show that social changes are perceived, appraised, and negotiated differently by individual adolescents, with very different outcomes in terms of psychosocial adjustment and development.
3. Large-scale economic change and youth development: The case of urban China 39
Hirokazu Yoshikawa, Niobe Way, Xinyin Chen
The authors examine the effect of the profound economic changes that have swept across the largest nation in the world on work conditions and parenting, and the consequences of these changes for youth development.
4. Academic expectations and well-being from school to work during the economic downturn 57
Katariina Salmela-Aro
Problems related to educational and school-to-work transition have risen in times of rapid economic change. While individual and family-related factors play a role, this article shows how welfare, social, and economic policies can reduce the negative impacts of global and national economic uncertainty for youth.
5. Is uncertainty bad for you? It depends . . . 65
Ingrid Schoon, Leslie Morrison Gutman, Ricardo Sabates
This article looks at the multiple interlinked factors that shape career development in an exploration of the role of uncertainty in young people's lives.
6. The future of young women's economic role in a globalized economy: New opportunities, persisting constraints 77
Marlis Buchmann, Tina Malti
The development of a globalized economy and the increased demand for highly qualified workers have not had great effects on gendered distributions in education and the labor market. The authors consider the many reasons that may underpin this finding.
7. Families, schools, and major demographic trends in the United States 87
Robert Crosnoe, Aprile D. Benner
The need for schools to keep pace with changes in the composition of American families, so that transactions between school and families are easier and more effective, is discussed, and suggestions as to how this may be accomplished are presented.
8. Technology and youth 97
Gustavo S. Mesch
New technologies, especially those related to social networking, present youth with new opportunities, but they also make strong demands on their social skills to realize these opportunities. The article discusses the pros and cons of technological advances in the context of youth development.
9. Competent youth in a "disorderly world": Findings from an eighteen-nation study 107
Inge Seiffge-Krenke
Social changes in all parts of the world, together with increasing globalization, may have contributed to high levels of school-related stress and worries about the future among adolescents. This chapter focuses on these concerns and the coping styles that adolescents from eighteen countries use in dealing with them.
10. Promoting positive youth development in the face of contextual changes and challenges: The roles of individual strengths and ecological assets 119
Richard M. Lerner, Edmond P. Bowers, G. John Geldhof, Steinunn Gestsdóttir, Lisette DeSouza
The authors use a recent study of positive youth development to examine how instances of individual strengths and ecological assets combine to enhance the likelihood that youth will become productive and actively engaged citizens.
Index 129