ZBrush Character Creation: Advanced Digital Sculpting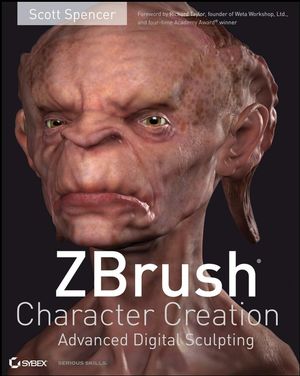 ZBrush Character Creation: Advanced Digital Sculpting
ISBN: 978-1-118-09921-6
May 2011
352 pages
Product not available for purchase
Description
ZBrush's popularity is exploding giving more CG artists the power to create stunning digital art with a distinctively fine art feel. ZBrush Character Creation: Advanced Digital Sculpting is the must-have guide to creating highly detailed, lush, organic models using the revolutionary ZBrush software. Digital sculptor Scott Spencer guides you through the full array of ZBrush tools, including brushes, textures and detailing. With a focus on both the artistry and the technical know-how, you'll learn how to apply traditional sculpting and painting techniques to 3D art while uncovering the "why" behind the "how" for each step. You'll gain inspiration and insight from the beautiful full-color illustrations and professional tips from experienced ZBrush artists included in the book. And, above all, you'll have a solid understanding of how applying time-honored artistic methods to your workflow can turn ordinary digital art into breathtaking digital masterpieces.
1. Sculpting, from Traditional to Digital.
2. Sculpting in ZBrush.
3. Designing a Character Bust.
4. Your Sculpting Toolbox: An in depth look at the ZBrush sculpting toolset.
5. Detailing: How to add fine details to your characters.
6. Texture painting: Freehand painting in ZBrush.
7. Texture Painting: Projection methods.
8. Posing with Transpose.
9. Advanced sculpting techniques.
10. Rendering ZBrush Displacements in Maya.
11. Getting your Work out of ZBrush.
12. Applications for Digital Sculpting.