Zen Therapy: Transcending the Sorrows of the Human Mind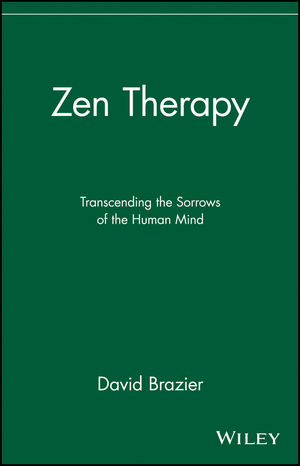 Zen Therapy: Transcending the Sorrows of the Human Mind
ISBN: 978-0-471-19283-1
Dec 1997
288 pages
Description
"A potent source of inspiration for anyone interested in the therapeutic potential of Buddhism. David Brazier writes with clarity and authority about the Zen way."—Mark Epstein, M.D. author of Thoughts Without a Thinker: Psychotherapy from a Buddhist Perspective.

"Comprehensive and readable . . . should appeal to anyone broadly interested in Buddhism."—Helen Sieroda psychosynthesis psychotherapist.

In this book, psychotherapist David Brazier offers readers in the West a fresh perspective on Buddhist psychology and demonstrates how Zen Buddhist techniques are integrated into psychotherapy. Writing from the viewpoint of a Western psychotherapist, Dr. Brazier successfully demystifies Buddhist psychology, explains the conceptual foundations of Buddhist thought, and with the help of vivid case studies, clearly demonstrates how a Buddhist approach can provide a practical path to personal growth.
Acknowledgments 7
Technical Terms 7
Part 1 Foundations
1 First Steps 11
2 Clean Space 22
3 Buddha Nature 33
4 Core Ethnics 44
5 Tranquility 54
6 Mindfulness 64
Part 2 Buddhist Psychology
7 Introduction to Part Two 77
8 Root Relations 87
9 Perception and Will 95
10 Association 112
11 All Change 124
12 Body Zen 136
13 Support 136
14 Karma 158
15 Feeding 168
16 Dhyana and Path 178
Part 3 Therapy as a Zen Way
17 Compassion 191
18 Love 201
19 Wisdom 212
20 Secret Way 223
21 Loss as Teacher 234
22 Letting Go 244
23 Coming Home 255
Glossary 267
Bibliography 271
Index 277