Zizek: A Critical Introduction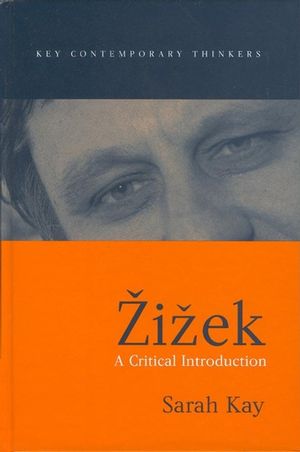 Zizek: A Critical Introduction
ISBN: 978-0-745-62207-1
Apr 2003, Polity
208 pages
Description
Žižek is hailed as the most significant interdisciplinary thinker of modern times. His work is a powerful, often explosive combination of Lacanian psychoanalysis and philosophy which tests key psychoanalytical concepts against the ideas of major European thinkers, especially Hegel. It has ignited enthusiasm and stimulated new approaches across a vast range of disciplines, and seems to be attracting an ever-growing readership. In part, this is because Žižek himself has a panoramic range of interests encompassing film studies, literature, cyber culture, ethics, theology and, above all, politics. It is also because he is a highly entertaining writer, having a flair for anecdote, a smutty sense of humour and the knack of capturing complex ideas in concrete form.


Sarah Kay's book provides a lucid and comprehensive introduction to Žižek's work. His writings to date are presented and evaluated here for the first time, together with an outline of their development and explanations of his key premises, themes and terms. This book will be essential reading for students of cultural studies, literary studies, philosophy and social and political theory.
Preface and Acknowledgements.
Chapter 1: Introduction: thinking, writing and reading about the real.
Chapter 2: Dialectic and the real: Lacan, Hegel, and the alchemy of après-coup.
Chapter 3: 'Reality' and the real: culture as anamorphosis:.
Chapter 4: The real of sexual difference: imagining, thinking, being.
Chapter 5: Ethics and the real: the ungodly virtues of psychoanalysis.
Chapter 6: Politics, or, the art of the impossible.
Glossary of Žižekian terms.
Notes.
Bibliography.
Index
"Kay's introduction is a much more thorough and rigorous study, and her elucidation of the influence of German idealism on Zizek's thinking is by far the best of any of the introductions under consideration."
Sean Homer, Gramma


The powerful and explosive writings of Zizek, the most significant interdisciplinary thinker of modern times, are here presented and evaluated for the first time.

Žižek's thought revolves around 'the real', an elusive concept in Lacanian psychoanalysis; he refines and tests this concept against key philosophical thinkers from Descartes to Derrida, especially Hegel.

Kay outlines the development of Zizek's thought, and explains his key premises, themes, and terms.

Kay goes on to demonstrate that the decisive orientation of Žižek's thought is ultimately political - he uses psychoanalysis and philosophy not just to understand the world, but also in order to change it.