Zukunftstechnologie Tissue Engineering: Von der Zellbiologie zum künstlichen Gewebe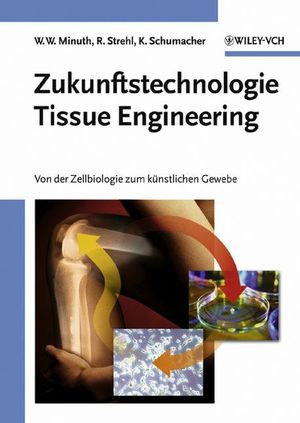 Zukunftstechnologie Tissue Engineering: Von der Zellbiologie zum künstlichen Gewebe
ISBN: 978-3-527-65980-7 February 2012 Wiley-Blackwell 360 Pages
Description
Tissue engineering is a new and rapidly developed technology, which already does and will continue to benefit the world. The aim of tissue engineering is to generate alive, functional and normal tissue for clinical applications.
Tissue engineers worldwide have set out to grow virtually every type of human tissue - liver, bone, muscle, cartilage, blood vessels, heart muscles, nerves, pancreatic islets, and more. Commercially produced skin is already available for use in treating patients with diabetic ulcers and burns.
The new book introduces the reader to the necessary fundamentals of cellular development and tissue culture as well as to recent progress of artificial tissue and organ engineering.


? Entwicklungsvorgänge
? Zellen und Gewebe
? Klassische Kulturmethoden
? Tissue Engineering
? Konzepte zur Gewebeherstellung
? Reifung von Gewebekonstrukten
? Innovation -
Tissue Factory
? Sicherung der Gewebequalität
? Perspektiven
Anhang:
? Glossar
? Herstellerfirmen

"Minuth et al. konzentrieren sich dabei im wesentlichen auf die konkrete Durchführung des Tissue Engineerings, so dass ihre Veröffentlichung insbesondere bei Laborpraktikern großen Anklang finden dürfte. Lobenswert ist das äußerst umfangreiche Glossar des von Wiley-VCH verlegten Buches, in dem etwa 1000 Stichwörter aus Zellbiologie, Gewebekulturtechnik und Tissue Engineering kurz erklärt werden."

Harald Zähringer
Laborjournal 1-2/2004