de Gruchy's Clinical Haematology in Medical Practice, 5th Edition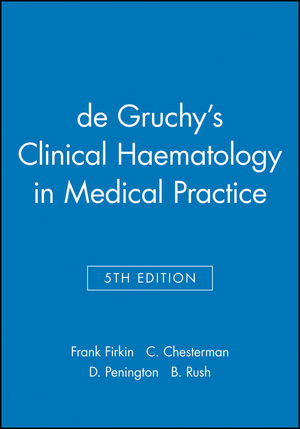 de Gruchy's Clinical Haematology in Medical Practice, 5th Edition
ISBN: 978-0-632-01715-7
Jan 1991, Wiley-Blackwell
540 pages
Description
This book has been highly successful ever since it was first published in 1958. Emphasis throughout is placed on diagnosis and management, with particular stress on clinical problems as they confront the practitioner. The new fifth edition has been completely revised and updated to take account of important recent developments such as AIDS, lymphomas and leukaemias, and in order to contain the length, some sections of the book have been condensed.
Preface to Fifth Edition.
Preface to First Edition.
1. Formation Blood Cells; Bone Marrow Biopsy.
2. The Red Cell; Basic Aspects of Anaemia.
3. Hypochromic Anaemia: Iron Deficiency and Siberoblastic Anaemia.
4. The Megaloblastic Anaemias.
5. Anaemia in Systemic Disorder; Diagnosis in Normochromic Normocytic Anaemia.
6. Pancytopenia; Aplastic Anaemias.
7. Disorders of Haemoglobin Structure and Synthesis.
8. The Haemolytic Anaemias.
9. White Cells: Neutrophilia and Eosinophilia; Neutropenia and Agranulocytosis; Infectious Monoucleosis.
10. The Leukaemias.
11. Tumours of Lymphiod Tissues; The Paraproteinaemias.
12. Polycythaemia; Myelofibrosis.
13. The Spleen: Hypersplenism and Splenomgaly.
14. The Haemorrhagic Disorder; Capillary and Platelet Defects.
15. Coagulation Disorder.
16. Thrombosis: Clinical Features and Management.
17. Blood Groups; Blood Transfusion; Acquired Immune Deficiency Syndrome.
Index.
"Although this book is clearly orientated to bedside problems, it never fails to explain the usefulness and limitations of laboratory investigations. Such a book is probably needed even more now than it was in 1958 and ... this edition will continue to fill the need admirably ... it remains the best haematology reference for the general physician" British Medical Journal