e-Discovery For Dummies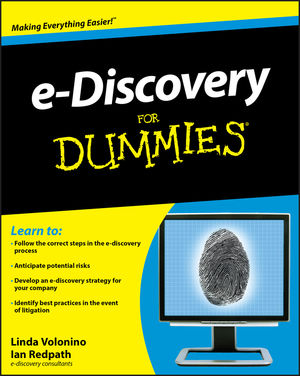 e-Discovery For Dummies
ISBN: 978-0-470-51012-4
Nov 2009
360 pages
Description
Discover the process of e-discovery and put good practices in place.
Electronic information involved in a lawsuit requires a completely different process for management and archiving than paper information. With the recent change to Federal Rules of Civil Procedure making all lawsuits subject to e-discovery as soon as they are filed, it is more important than ever to make sure that good e-discovery practices are in place.
e-Discovery For Dummies is an ideal beginner resource for anyone looking to understand the rules and implications of e-discovery policy and procedures. This helpful guide introduces you to all the most important information for incorporating legal, technical, and judicial issues when dealing with the e-discovery process. You'll learn the various risks and best practices for a company that is facing litigation and you'll see how to develop an e-discovery strategy if a company does not already have one in place.
E-discovery is the process by which electronically stored information sought, located, secured, preserved, searched, filtered, authenticated, and produced with the intent of using it as evidence
Addresses the rules and process of e-discovery and the implications of not having good e-discovery practices in place
Explains how to develop an e-discovery strategy if a company does not have one in place
e-Discovery For Dummies will help you discover the process and best practices of managing electronic information for lawsuits.
Introduction.
Part I: Examining e-Discovery and ESI Essentials.
Chapter 1: Knowing Why e-Discovery Is a Burning Issue.
Chapter 2: Taking a Close Look at Electronically Stored Information (ESI).
Chapter 3: Building e-Discovery Best Practices into Your Company.
Part II: Guidelines for e-Discovery and Professional Competence.
Chapter 4: The Playbook: Federal Rules and Advisory Guidelines.
Chapter 5: Judging Professional Competence and Conduct.
Part III: Identif ying, Preser ving, and Collecting ESI.
Chapter 6: Identifying Potentially Relevant ESI.
Chapter 7: Complying with ESI Preservation and a Litigation Hold.
Chapter 8: Managing e-Discovery Conferences and Protocols.
Part IV: Processing, Protecting, and Producing ESI.
Chapter 9: Processing, Filtering, and Reviewing ESI.
Chapter 10: Protecting Privilege, Privacy, and Work Product.
Chapter 11: Producing and Releasing Responsive ESI.
Part V: Get ting Litigation Ready.
Chapter 12: Dealing with Evidentiary Issues and Challenges.
Chapter 13: Bringing In Special Forces: Computer Forensics.
Part VI: Strategizing for e-Discovery Success.
Chapter 14: Managing and Archiving Business Records.
Chapter 15: Viewing e-Discovery Law from the Bench.
Chapter 16: e-Discovery for Large-Scale and Complex Litigation.
Chapter 17: e-Discovery for Small Cases.
Part VII: The Part of Tens.
Chapter 18: Ten Most Important e-Discovery Rules.
Chapter 19: Ten Ways to Keep an Edge on Your e-Discovery Expertise.
Chapter 20: Ten e-Discovery Cases with Really Good Lessons.
Glossary.
Index.