e-Revolution - A Computerised Accounting Practice Set Using MYOB Version 19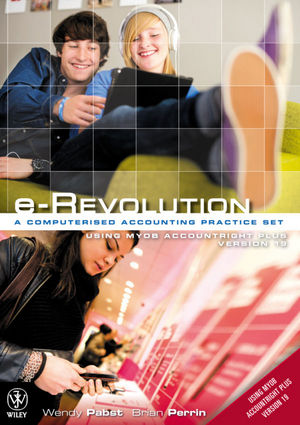 e-Revolution - A Computerised Accounting Practice Set Using MYOB Version 19
ISBN: 978-1-118-24515-6
Feb 2012
97 pages
Product not available for purchase
Description
eRevolution is a computerised practice set using MYOB AccountRight Plus V19. This practice set is designed to give students experience in recording a variety of business transactions common to small businesses, so that they will gain an understanding of a computerised accounting system, how it operates, how to set up a data file and enter opening balances, how to record transactions, and how to produce useful reports.  This 'hands-on' methodology reinforces the students' understanding of accounting fundamentals typically encountered in practice, and is therefore, suitable for students undertaking a course in accounting or computer-based accounting information systems. 

Completion of the practice set for a one month period, should ensure a greater appreciation of the following:
the steps in a typical accounting cycle for a small business
the use of subsidiary ledgers
the perpetual inventory system
balance-day adjustments
the bank account reconciliation
how the accounting cycle culminates in the preparation of financial statements
how GST is recorded and the effect it has on transactions
the variety of source documents, and
how to extract information from source documents to record transactions.

Systems Requirements

For Windows 7: Windows Vista (Service Pack 2) or Windows XP (Service Pack 3)

For Mac: Mac OS X v10.4 or later
Includes source documents typically used in business.
Students will set up a data file for a company and process transactions for one month.
An overview of the MYOB Command Centres is provided.
Includes installation guidelines for MYOB AccountRight Plus.
The transactions for period 1 are demonstrated in Chapter 4 with step-by-step instructions and screen shots of relevant windows, so that students can compare their screens against the screen shots before recording the entry or moving to the next step.
A CD containing MYOB AccountRight Plus V19 is included with the practice set.