eBay Bargain Shopping For Dummies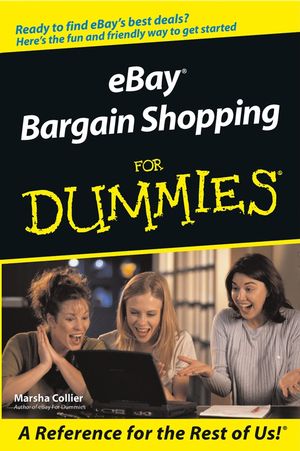 eBay Bargain Shopping For Dummies
ISBN: 978-0-764-55897-9
Oct 2003
288 pages
Product not available for purchase
Description
Chances are you have friends who have been thrilled with deals they got on eBay. Maybe you'd like to get in on the eBay action, but don't know where to start. Or maybe you've bought on eBay before, but want to get the inside scoop on scooping up the very best deals. This book is for you. It helps you differentiate between the junk and the jewels and get the best buys on everything from clothing, household goods, and electronics to business equipment, new or used cars, and real estate!

Written by Marsha Collier, self-professed bargain shopper and best selling author of eBay For Dummies, eBay Bargain Shopping For Dummies is packed with advice and anecdotes from other experts, some of whom make a living buying and selling on eBay. It helps you begin shopping on eBay quickly, safely, and successfully, with information on:
Using the My eBay Page to keep up with your potential deals
Using feedback about sellers and shopping safely
Bidding, buying, and winning
Things to look for and things to look out for
Ways to pay, including PayPal
Taking advantage of eBay's search functions and refining your searches to zero in on sought-after items
Shopping eBay's Bargain Basement
Even successful eBay veterans will discover tips and tricks they didn't know and bargain shopping secrets. Whether you want to use eBay to seek out and snap up hard-to-find collectibles, or simply to save on everyday purchases, eBay Bargain Shopping For Dummies takes you step-by-step through the process. And to get you started right, the book is a real bargain!
Introduction.
Part I: Opening Up the Bargain-Filled World of eBay.
Chapter 1: Getting Started at eBay.
Chapter 2: Bidding, Buying, and Winning.
Chapter 3: Bargain Shopping Secrets Exposed!
Chapter 4: Discovering Your My eBay Page.
Part II: Staying Safe While Shopping at eBay.
Chapter 5: Feedback: The Heart of Safe Trading.
Chapter 6: Shopping Safely.
Chapter 7: Protecting Yourself from Having a Bad Transaction.
Chapter 8: Ways to Pay for Your Stuff.
Part III: Searching eBay.
Chapter 9: Home: A Good Place to Start.
Chapter 10: Taking Advantage of eBay's Search Functions.
Chapter 11: Understanding eBay's Category Hierarchy.
Part IV: Shopping for Specific Items.
Chapter 12: One-Stop Shopping for Family Fun.
Chapter 13: Finding Home and Garden Bargains.
Chapter 14: Finding Digital and Industrial Bargains.
Part V: Specialty Shopping.
Chapter 15: Getting Particular with Specialty Sites.
Chapter 16: Shopping Close to Home.
Chapter 17: Shopping eBay's Bargain Basement.
Part VI: Going for the Gold.
Chapter 18: Driving a Deal at eBay Motors.
Chapter 19: Joining the eBay Land Rush.
Chapter 20: Getting Glitzy.
Part VII: The Part of Tens.
Chapter 21: Ten Things eBay Sellers Want You to Know.
Chapter 22: Ten Really Great Things About.
Shopping at eBay.
Index.
"...grab this book before you bid..." (
Teddy Bear Club Intl
, November 2003)
[EBay Bargain Shopping For Dummies] "...Recommended reading..." (Collect It, Jan 04)