eBay For Seniors For Dummies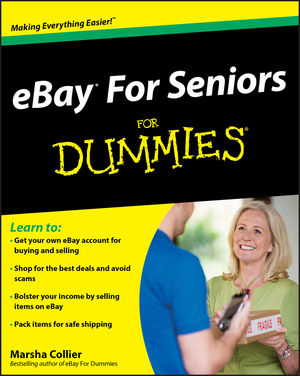 eBay For Seniors For Dummies
ISBN: 978-0-470-59311-0
Oct 2009
384 pages
Description
Expert advice helps seniors find bargains and make money on eBay

eBay is a great place to help seniors find bargains or supplement their income by selling items. This book offers the basics on buying or selling on eBay with confidence in a format that's ideal for the senior audience, including a larger print format than traditional For Dummies books.

Author Marsha Collier is the undisputed authority on eBay. Her advice has helped millions of eBay users navigate the popular shopping and selling site. This book explains how to

Get your computer ready to use eBay

Go to the eBay site, sign up, and browse

Spot good deals, buy items, and pay safely

Set up your own sale

Take pictures of your merchandise and get them online

Receive payment and ship items

Understand eBay's fees and rules

eBay can be fun and profitable. This book makes it easy to get started!
Part I: Joining the Crowd on eBay.
Chapter 1: Getting Comfy with the Spirit of eBay.
Chapter 2: Getting Ready for eBay Action.
Chapter 3: Navigating the eBay Site.
Part II: Shopping at the eBay Marketplace.
Chapter 4: Saving Time and Money by Shopping on eBay.
Chapter 5: Checking Out the Sales and Sellers.
Chapter 6: Bidding and Buying on eBay.
Chapter 7: Paying For and Receiving Your Merchandise.
Part III: Making Your Mark on eBay.
Chapter 8: Giving (and Getting) Essential Feedback.
Chapter 9: Setting Up Your About Me and My World Pages.
Chapter 10: Enhancing Your Presence and Following the Rules.
Part IV: Taking the Plunge: Running a Sale.
Chapter 11: Seeing to Your Selling-on-eBay Homework.
Chapter 12: Getting Items Ready for Listing.
Chapter 13: Constructing and Conducting Your Sale.
Chapter 14: Packaging and Shipping What You Sold.
Appendix.
Index.