eBay Listings That Sell For Dummies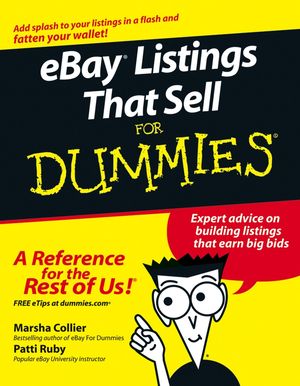 eBay Listings That Sell For Dummies
ISBN: 978-0-471-78912-3
May 2006
344 pages
Description
No matter what you want to sell on eBay—auto parts or designer apparel…weird, unique wares or pricey antiques—the principles and basic rules for successful listings are the same. eBay Listings That Sell For Dummies follows the advice it gives you for your ads—it tells you what you need to know without bogging you down with lots of fluff and peripheral stuff. From the mechanics to descriptive ad copy to photography to getting it on eBay, this guide covers:
eBay options that can boost the appeal of your listings, including Buy It Now (BIN), Subtitle, Bold Title, Highlight, Box border, Home Page Featured, Featured Plus!,  and Gallery Picture (a must)
Constructing catchy listings with a title that sells and keywords that pay off
eBay Acronyms you'll need to know
Tackling and completing eBay's Sell Your Item form
HTML formatting basics plus some free JavaScript scripts you can use to dress up your listing
Embedding images, creating thumbnails, and adding bells and whistles (or not)
Buying a digital camera for taking eBay photos and equipping your "studio"
Lighting correctly, and using the Cloud Dome, light cubes, panels, and umbrellas
Retrieving your images and uploading them to a server (your free ISP space, AOL, eBay, eBay's Picture Manager, or others)
Editing your photos, including cropping, enhancing, resizing, sharpening, and more
A checklist of techniques for preparing elegant, fast-loading images for your ads
Sprucing up your eBay store
Posting your listing to other sites such as half.com, amazon.com, and overstock.com
Automating with HTML Generators, including eBay's Turbo Lister, or Third-Party HTML generators such as Mpire.com Launcher or the authors' free tool from www.coolebaytools.com
Written by eBay pros Marsha Collier, a successful PowerSeller, and Patti Louise Ruby, a trainer at eBay University events and eBay Live, eBay Listings That Sell For Dummies is loaded with tricks of the trade. It's complete with step-by-step instructions for many tasks, tables and checklists, lots of screen shots, and examples of good and bad ads. With this friendly guide, your merchandise will quickly be going…going…gone on eBay.
Introduction.
Part I: Getting Chummy with the Basics.
Chapter 1: Attracting Buyers with Your eBay Listing.
Chapter 2: Getting a Quick Start with the Sell Your Item Page.
Chapter 3: Knowing How HTML Works.
Part II: Lining Your Pockets with HTML.
Chapter 4: HTML Text — Formatting Basics.
Chapter 5: Playing the (Hyper) Links.
Chapter 6: Brewing JavaScripts (Not the Starbucks' Kind).
Chapter 7: Embedding Images for Flash and Effect.
Chapter 8: Plumping Up Your Description.
Chapter 9: Adding Some Bells and Whistles.
Part III: Turning Pictures into Dollars.
Chapter 10: Choosing and Knowing Your Camera.
Chapter 11: Outfitting Your Studio.
Chapter 12: Getting the Right Light (or the Light Right).
Chapter 13: Setting Up Your Pictures.
Chapter 14: Special-Situation Photography.
Chapter 15: Getting the Pictures from Your Camera to eBay.
Part IV: Advanced Applications for Your Newfound Skills.
Chapter 16: Making Perfect Pictures.
Chapter 17: Dolling Up Your eBay Store.
Chapter 18: Porting Your Listings to Other Sites.
Chapter 19: Automating with HTML Generators.
Part V: The Part of Tens.
Chapter 20: Debunking the Ten (or so) Online Photography Myths.
Chapter 21: Ten Tips for Your Auction Design.
Appendix: Mechanizing Your Sales with Third-Party Management Tools.
Index.